HBO Teases 'SATC' Reboot With First Look At Carrie & Big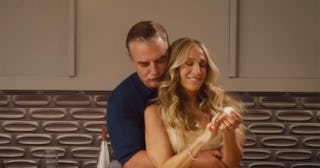 HBO Max/Youtube
Carrie and Big are back in a teaser for And Just Like That
And just like that… we've gotten our first look at Carrie and Big in the new Sex and the City reboot. HBO gave fans a tease of the upcoming show in a promo for its slate of upcoming releases during the Emmys.
The oh-so-brief shots including Big (played by Chris Noth) romantically wrapping his arms around Carrie (Sarah Jessica Parker) from behind, plus the couple sharing a sweet kiss. Official details on And Just Like That have been few and far between, so the glimpses of domestic bliss for the on-again, off-again couple may soothe fans worried about whether Carrie really found her happily ever after with Big.
Then again, the scenes may raise more questions than they answer — I couldn't help but wonder if this isn't a little misdirection. I mean, the whole series was kind of centered on Carrie's love life being a little bit of a trainwreck. And let's not forget that Big's ex is also back in the picture — Bridget Moynahan will reportedly reprise her role as Natasha.
We also know that Noth took some convincing to join the show. "It was a little bit of a sort of creative negotiation because I didn't really feel I had anything to offer in that role again. It kind of felt like I had done it," Noth said in an interview with Yahoo. "But Michael Patrick King is just an incredible writer and has incredible creative ideas, and once we got together and talked about the potential of what we could do with the character, I was all in."
King, the show's executive producer, is also bringing back originals like Mario Cantone and Willie Garson, who play two of Carrie's besties, and David Eigenberg and Evan Handler as Miranda and Charlotte's partner. And speaking of those two…
We do get a quick glimpse of Carrie out on the town with Miranda and Charlotte in the trailer– but there's no Samantha in sight, as actress Kim Catrall passed on the chance to bring the iconic character back for the reboot (maaaaybe because she's been pretty public about her beef with co-star Sarah Jessica Parker).
So far, there's no premiere date set for And Just Like That, so fans will have to keep waiting to see what happens for Carrie Bradshaw and crew. The good news, though, is that it is expected to debut in 2021 — so the wait won't be too long.