California School Shooting Leaves 1 Dead And Several Injured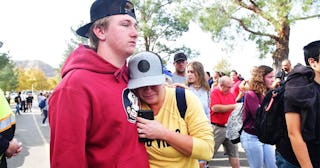 FREDERIC J. BROWN/Getty
One person dead after high school shooting in Santa Clarita, California
A school shooting at a high school in Southern California has left one dead and at least five others injured. Per AP, a lone shooter opened fired early Thursday morning, November 14, 2019, at Saugus High School in Santa Clarita, which is just outside of Los Angeles in Southern California. Details are still trickling in, but at this time, one person is dead, at least six others are injured, and Los Angeles County Sheriff Alex Villanueva confirmed that the shooter is in custody and being treated at a local hospital.
The Santa Clarita Valley Sheriff's Station believes that there was only the one shooter, who they identified as a 16-year-old Asian male who is a student at the high school. The New York Times confirmed that today is the shooter's birthday.
The shooting started at 7:30 a.m. local time, near the start of the school day. According to CBS LA, one female victim died, and three of the remaining victims were confirmed to be male — two in critical condition and a third in good condition. Villanueva confirmed that all the victims were students.
After the shooting, the suspect ran west towards Highlands Elementary School, where he was apprehended around 9:30 a.m.
"I was in class just doing my work as usual and all of a sudden I heard loud pops, loud bangs…two seconds later there were people sprinting, screaming…two students came into our room saying someone has a gun, so we locked the room," student Shauna told CBS LA.
One student, Sharon Orelana Cordova, told KNBC-TV (via The Times) that she hid under a table. "When I got out I saw this person lying on the ground with blood all over."
According to the Gun Violence Archive, there have been 366 mass shootings in 2019. According to Everytown For Gun Safety Support Fund, there were 84 incidents of gunfire on school grounds in 2019, 30 of which involved mass shootings or incidents where a student set out to attack their peers. Despite this epidemic of violence across schools in the United States, our elected officials continue to drag their feet when it comes to taking action to stop this behavior from continuing. A couple schools have begun offering mental health programs, but the fact remains that the U.S. government refuses to take any serious actions to reform gun laws in this country. How many schools shootings must happen before this country takes gun control seriously?