Hilarious Anti-Trump PSA Reminds Us To Get Out And VOTE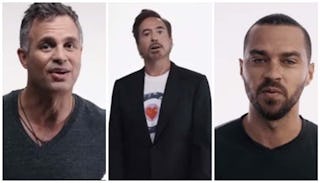 Celebs are reminding us to VOTE — and promising a nude scene we all wouldn't mind seeing
This election is terrifying, so a little comic relief in the form of a hilarious anti-Trump PSA doesn't hurt. All it takes is all of us — we need to vote. So Joss Whedon got a bunch of celebrities together to remind us that one of the candidates is a racist, ignorant, idiot — and we need to do all we can to stop him. They managed to use some humor, which is a plus in this terror-inducing time we're facing.
Robert Downey Jr., Mark Ruffalo, Neil Patrick Harris, James Franco, Clark Gregg, Leslie Odom Jr., Jesse Williams, Scarlett Johansson… they're all in on it.
Watch:
Just about every famous person you know got together to make a point: Save the day.
#SAVETHEDAY
"It's just a no-brainer, the election is far too IMPORTANT for you to think of November 8th as any other day. When you step into that voting booth, make your mark and make it count!"
And you may even get to see Mark Ruffalo naked, which would be awesome.
This article was originally published on