Saved By The Bell Inspired Lipstick Exists, Your Inner Tween Is Squealing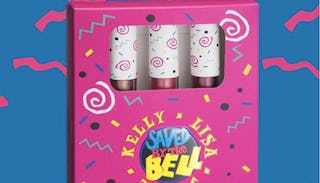 Image via Instagram/Sola Look
"Saved By the Bell" lipsticks are here to make your '90s kid heart explode
There's a new line of "Saved By the Bell"-inspired lipsticks coming and we're even more excited than Jessie Spano hopped up on caffeine pills while struggling under her self-imposed pressure to get into Stanford.
That feeling when there are lipsticks inspired by our favorite 1990s TV characters.
The line is launching with makeup company Sola Look, the same people behind a Dirty Dancing-inspired eyeshadow palette we also need.
But for now, it's all about our three favorite Bayside High ladies and the super cute lipsticks bearing their names. Sorry, Preppy. The dudes have to sit this one out.
The lipsticks come in adorably appropriate '90s packaging and formulas are custom-created and vegan, so that's cool. But really, all we care about is that they're tied to our beloved Saturday morning childhood escape. The only thing that would make this better is some Miss Bliss concealer, because hello, we're not 13 anymore.
Although this will be a purely nostalgic purchase on my part (because yes, I'm buying them), the shades are actually beautiful. The Kelly is a sweet and sassy coral, exactly what we would expect for everyone's favorite head cheerleader. Jessie's is a gorgeous but practical nude bronze that will go with everything, because who has time to fuss over lipstick colors when trying to take over the world? And of course, Lisa Turtle's lips would need to be a fashion-forward purple to go with all of her bold outfits.
I am and always will be a Kelly, and this lipstick is the perfect complement to my off-the-shoulder Bayside Tigers sweatshirt, an exact replica of the one Kelly wore the night of Zack and Kelly's prom. Not kidding, I really do own this.
PS, this episode remains the bar all romantic gestures for my entire life have been measured against and no man has even come close.
The collection launches February 3rd, and will be available through Sola Look's online store. Until then, this will be us.
This article was originally published on