This Is What I Want To Say To The Teacher Of My Child With Special Needs
by Leah Moore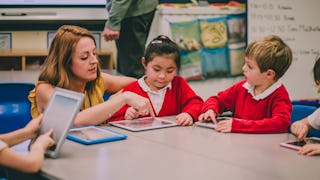 DGLimages
The day I learned my daughter was classified as having "special needs," I scheduled the extensive hours in therapies, learned the new language of IEPs, and acclimated to a "new normal."
What I never planned for, however, was you.
I never imagined that there would be a stranger who would be so invested in this journey with me. That there would be someone equally excited when my child indicated she needed to use the toilet or successfully transitioned between activities. Someone who took pictures of the first time she drew a straight line or circled the word that started with the first letter of her name because she knew it was remarkable.
I never imagined my daughter could have a teacher like you.
I know what the job entails. I might have a different population and age group, but I know the long hours, the changing curriculum, the state mandates, and the emotional demands. I also know of the potential for joy and how badly you need to fight for it. Every day in your classroom, that joy was palpable.
And that is not a small feat.
You created a space where she was not just trying to acclimate — to the concept of school, the dynamics of friendship, even her own body – but she was also allowed to be the best version of herself. In your classroom, children are given the space to celebrate what feels natural. You have effortlessly and impeccably created a world that fosters a community and teaches children – some who were told could never "traditionally" learn.
That, dear teacher, is nothing short of magic.
Her educational journey is only just beginning and you are the vanguard. You have started her on the path to learn that school is not a place of "can't" and "won't" but "try and try again." You have instilled the security to know that there may be hard days, but there will always be a welcoming seat in your room. You have, through your daily dedication, skilled expertise, and thoughtful planning, whispered confidence into my own child.
And if that wasn't enough, you guided me through the best ways to parent her. Practical solutions, thoughtful recommendations, and empathetic listening which shared that confidence with me as well. Because of you, I could look past the extensive hours of therapy, the new language of IEPS, and my new normal – I could just enjoy time with my child.
There will never be words to acknowledge my gratitude.
As a teacher, I would like to say, "Teach me your secret." And as a mother, with tears in my eyes, I would like to simply say, "Thank you."
This article was originally published on