Scary Mommy Loves: Back-To-School Edition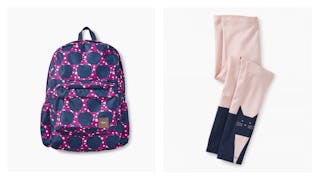 Image via Tea Collection
Back-to-school time is here and we know what that means — time to shop for all the stuff kids need to get back in the fall swing of things. Since every mom ever is currently on the hunt for the cutest backpacks, socks, shoes, clothes, and more, we thought we'd suggest our most loved items to help make your 2018 back-to-school shopping easier (and more adorable) than ever.
Kodak Printomatic Camera
None of us have a problem taking photos anymore — our phones are full of them. But aren't you ever nostalgic for the feeling of creating an actual photograph — on paper? Kodak has a solution for that! Their fun new Printomatic Instant Print Camera prints 3×2 photographs while your excited kid looks on. And the film has a sticker back so your school kid can bring a piece of home (or a pic of mom) along with her if she's got the back-to-school jitters.
Kodak Photo Printer Dock
Get those photos out of your phone and onto paper! You know you have literal thousands of pictures the world never sees, so why not show them off? The Kodak Photo Printer Dock lets you print photos directly from your smartphone. Compatible with Android And iOS.
Tea Collection Backpack
Tea Collection has high quality, comfortable backpacks that can grow with your child — and have you seen the adorable patterns? This is one back-to-school item we might need to snatch up for ourselves.
Tea Collection Curious Cat Leggings
Anyone else have a child who refuses to wear real pants or adorable dresses? Let Tea Collection rescue your kiddo from a style rut with the cutest leggings ever for the first day of school. Because who doesn't need a pair of stretchy pants with a kitty on them?
Speedsmith Shoes
Not only are Speedsmith's comfortable slip on sneakers lightweight and super stylish, the company that makes them is giving back in a big way. They've partnered with the leading shoe non-profit Soles4Souls. When your child has outgrown her SpeedSmiths, the company will pay for Soles4Souls to receive them in support of their charitable and micro-enterprise efforts to help those in need. All you have to do is contact them and they'll send you a pre-paid shipping label and Soles4Souls will receive them directly.
Mac and Mia clothes
Your personal stylist — for kids. Yes, we fill our kids' drawers with deals from our favorite budget clothing spots like Target and Old Navy constantly. But sometimes you want a piece that you know every other kid on the block isn't wearing. Stylists hand-select items to fit your family's unique preferences — and it shows. And the best part is, you only pay for the pieces you like. This clothing is so beautiful and high-quality, and you can feel good knowing you're supporting a woman-owned business.
Marie Tillman founded Mac & Mia in 2014. Marie is also the co-founder of the Pat Tillman Foundation, a nonprofit that provides academic scholarships for veterans and their spouses. In 2004, in response to the nationwide outpouring of support following her husband Pat's death in Afghanistan, Marie established the Pat Tillman Foundation together with family and friends. Scary Mommy readers get $50 off their first order with code SCARY valid through 10/15/18.
Bombas socks
Socks remain the #1 most requested clothing item at homeless shelters. So for every pair of Bombas you purchase, this company donates a pair to someone in need. So far, that's added up to almost nine million pairs of socks. And it's a bonus that they just so happen to be the best socks around. Not kidding. They're so soft, colorful, and durable — you'll never buy your kids another brand. And they have a kid-proof guarantee — free replacement if they tear or outgrown them.
Mixtiles
Yes, you're taking a bunch of pictures of your adorable kids heading to school, but how about getting them on the walls? Mixtiles are such an easy way to get your images off your phone and on to your walls. All you need to do is download the app, choose the pics you want from your phone, and order. The tiles arrive in about a week and shipping is always free. The best part is they are super easy to hang (they come with velcro backs) and you can move them around as you order more. You can literally build a first day of school installation in your home, and add to it year after year. We love this idea, and this company.
Rag dresses
They are famous for their Rompers and now they have dresses in sizes 2T-11/12Y in the cutest patterns imaginable. Adorable as a dress or tunic with leggings, the high-quality pieces are made with a spandex/jersey knit fabric for the best possible fit. Our favorite collection from Rags is their new Disney collection. Can't even handle the cuteness!
JJ Cole Little Backpacks
Got a little one heading to preschool for the first time or need a bag for daycare? These JJ Cole backpacks are the perfect size — and come in tons of the cutest patterns. The backpacks feature a carabiner clip perfect for hooking on a lunch bag and have two mesh side pockets perfect for drinks and sippies.
Boon Bento
Boon bento boxes mean a Pinterest-worthy lunch with no extra effort, plus no Ziploc baggies to buy (and then throw away), and to top it all off, they're super easy to clean. It takes no more work than a typical school lunch to set this up — but the results are next-level unique and adorable. Maybe adorable enough that your kid will actually eat it all.
Electro Dough Kit
TechWillSaveUs has Electro Dough Kits, perfect for after school or weekends! Fun, STEM activity. They have a ton of sets on sale now for up to 30 percent off including themes like music, coding, plants, and gaming.
Editors may receive samples for review. All opinions are our own.
This article was originally published on