Scary Mommy Shop Up To 40% Off Today -- No Real Pants Required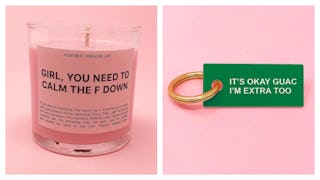 Image via Scary Mommy Shop
Yes, it's Black Friday. No, you don't have to leave the house
Circling a parking lot forever. Rummaging through picked over items. Braving the cold and crowds. Sounds like a super fun way to spend the day after Thanksgiving, doesn't it?
OF COURSE NOT.
That's why we've got you covered. You don't need real pants. You don't need to leave the house. You don't have to buy the inevitable 300 things your kids will be begging you for if you take them anywhere near a mall today. You just need to pour yourself a cup of coffee and look at this cute stuff. The Scary Mommy Shop has you covered today with up to 40% off their signature items — and the sale includes the adorable items (from women-owned businesses) that we're now featuring in our marketplace.
Shop away! No real pants required.
And TONS more where this came from at The Scary Mommy Shop.
This article was originally published on