10 Things To Do At the Jersey Shore With Kids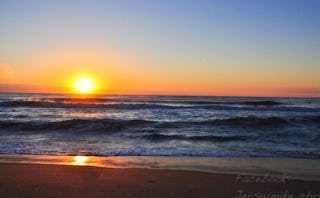 It is impossible to grow up in New Jersey and never take a trip down to the Jersey Shore. That's right — you do not "go to the shore" in New Jersey. When someone asks you where you are going, the response is always "down to the shore." Despite what the show of the same name would like you to believe, the Jersey Shore is full of beautiful beaches, fantastic food and fun activities for the entire family. I was born and raised in New Jersey, and I can tell you my memories do not involve anyone by the name of "Snookie" or "The Situation." When I think of New Jersey, I think of Jon Bon Jovi and Bruce Springsteen, a.k.a. The Boss. I think of long days on the beach followed by nights on the boardwalk, eating pizza, ice cream and salt water taffy. I am raising my children in our beautiful state, and although it was hard to narrow down this list to just ten, these are ten things we always have on our summer list. I know you will love them just as much as we do. It's beautiful here.
1. Jenkinson's Boardwalk and Aquarium – Point Pleasant
Jenkinson's Boardwalk and Aquarium is full of family fun all summer long. The boardwalk is about two miles end to end. You will find runners and walkers greeting each other in the morning and families rushing off to eat and enjoy the amusement park rides at night. Rainy day at the beach? No problem. Head into the Aquarium. The sharks and fish are cool, but the daily feeding of the penguins and a stop at the touch tank are the best! Thursday nights they offer a free fireworks show on the beach. Who doesn't enjoy fireworks while sitting on the beach? It's a must see.
2. Top That Donuts – Point Pleasant
If you like donuts, then this neighborhood donut shop is must for you. The donuts are homemade and AMAZING. You can choose one of their donuts from the menu or design your own. Some of our favorites are The Hangover (maple glaze with bacon crumble) and The Seaside Tony (cinnamon glaze with pecan pieces). I'm getting hungry just thinking about them. They also offer fun activities for the little ones, like story time and design-your-own-donut. You never know — your child could be the inspiration for the next great Top That Donuts flavor!
3. Cape May County Zoo – Cape May
This zoo is amazing, and guess what? It's free. That's right, admission and parking are FREE! They do ask for a donation to keep it that way, and that amount is completely up to you. They are open seven days a week all year round. The giraffes and the lions are worth the visit, and after seeing all the animals you can sit to enjoy lunch at the Safari Café.
4. Barnegat Lighthouse – Long Beach Island
Located on the northern tip of Long Beach Island, Barnegat Lighthouse was regarded as one of the most crucial change-of-course points for coastal vessels. It was originally lit back in 1859. A trip to the lighthouse will offer your children a super cool history lesson as well as a beautiful panoramic view of Island Beach, Barnegat Bay, and Long Beach Island from the top. It is open daily, and you can ride your bike or drive your car to get there. It really is a great bike ride. It is a must see when visiting Long Beach Island.
5. The Chicken Or The Egg – Beach Haven
Which came first, the chicken or the egg? Who cares. They make a great breakfast! Located in Beach Haven on Long Beach Island, The Chicken Or The Egg opened in 1991 and has been an island favorite ever since. While breakfast is available all day, they also offer lunch and dinner menus. As you can imagine, the wings are really good! They offer an extensive kids' menu, ensuring there is something for even the pickiest of eaters.
6. Collect shells and sea glass on the beach
There are so many beautiful beaches along the Jersey Shore. There is something about the sand between my toes and the smell of the sea air that makes me forget all about the daily stress in my life. Grab a bucket and walk along the water collecting shells. Kids love to collect things. Some of our favorite beaches to visit are Point Pleasant Beach, Long Beach Island, Wildwood Crest (specifically Diamond Beach) and Cape May.
7. The Manasquan Inlet/Jetty
Kids could watch boats all day long. Pack a snack and enjoy them from sunup until sundown. You can enjoy the views from Manasquan or Point Pleasant.
8. Fantasy Island – Beach Haven
Fantasy Island lives up to its name for kids, that's for sure. Whether it's your first time there or you visit summer after summer, there is something for everyone. From the merry-go-round to the bumper cars, fun is happening on Fantasy Island. A long time staple on Long Beach Island, kids love the merry-go-round and families love the views from the gigantic Ferris Wheel. Be sure to head over to the arcade for games — and of course, the trip wouldn't be complete without a stop in the ice cream parlor!
9. Mini Golf
If you are visiting the Jersey shore, there has to be a night of mini golf on your agenda. In every shore town and along every boardwalk, there are some of the best mini golf courses around.
10. Pizza, and Ice Cream, and Subs Oh MY!
New Jersey is known for our food and the shore is specifically known for fabulous pizza, homemade ice cream and delicious sub sandwiches. Visiting any of the boardwalks or shore towns is sure to satisfy every craving you could possibly have. While walking along one of the many boardwalks, you can smell the cheese steaks and the sausage and peppers from miles away. You can't go to the Jersey Shore and not sample all the food, so come hungry and leave happy!
Summer is here. Make sure the Jersey Shore is on your list of places to visit. There really is something here for everyone.
This article was originally published on