Someone Recut 'Schitt's Creek' As A Horror Film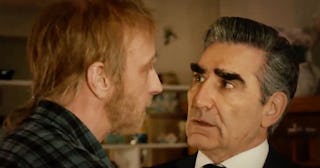 SchittsCreek/Twitter
Schitt's Creek released a fake trailer as if the show were a horror film, and it's fantastic
Someone close to me recently said that watching horror films has been the only thing able jolt them out of their 2020-induced general malaise of boredom and madness, so when I heard that my favorite show Schitt's Creek had recut the trailer for the series to make it seem like a horror film, I was like… inject that shit directly into my veins. Three years ago, the creative minds behind Schitt's Creek cut together a trailer as if the show were a horror film about a family deserted in a weird creepy motel filled with scary and sinister characters.
Though the show made the horror trailer three years ago, a lot of us (hi!) didn't watch the show three years ago and only picked it up during the pandemic while desperately searching for something cheerful to laugh at, so Schitt's Creek: The Horror Series is very much new to us.
In Schitt's Creek the horror film, Roland Schitt is no longer a kooky mayor, he's a maniacal villain, hell-bent on terrorizing the Rose family. David Rose's "ews" and "ulchs" as he peers into a motel bathroom are no longer funny, they're foreboding and ghastly. Twyla saying, "there was a murderer on the loose," isn't for a murder mystery party, it's for real! And the shot of the family realizing they bought a shitty town in the middle of nowhere is suddenly ominous and full of fear. What are they looking at?! A motel or a monster!
The only thing this horror trailer is missing are scenes from Moira Rose's iconic role in "The Crows Have Eyes 3: The Crowening."
To jog your memory, in the world of the show, Moira plays the role of Dr. Clara Mandrake in the third installment of the fictional "The Crows Have Eyes" series, which was released on the equally fictional streaming platform, Interflix.
If the horror trailer and "The Crowening" didn't do it for you and you're still searching for more Schitt's Creek content to fill the void, did you know that Dan Levy and the rest of the cast recorded mini bonus episodes throughout the early seasons of the show?
The "Inside Schitt's Creek" companion webisodes are the perfect thing if you're looking to zone out and spend a few hours (or a full day, no judgement) bingeing new Schitt's Creek content. You can watch all the short webisodes on the show's official YouTube page.
Dan Levy hinted at the idea of a Schitt's Creek movie, but maybe they should just turn it into a full-on horror film. A rich family loses everything and has to move to… dun dun dun… a remote town in the… wait for it… middle. of. nowhere. Creepy!