'Schitt's Creek' Is The Sh*t, And You Should Be Watching It
by Christine Organ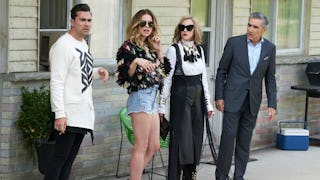 CBC/POP
I love to get lost in a good show as much as the next person, but by the time I get my kids in bed, return a few (dozen) emails, tend to some work projects, and clean up the disaster in the kitchen, I'm exhausted AF. I can barely remember my name, let alone focus on an hour-long TV show with complicated plot lines and innuendo.
I need something bite-sized that packs a big punch. I need relatable characters that make me laugh out loud.
Enter: Schitt's Creek. Which is basically the Reese's Peanut Butter Cup of late-night television distraction. In other words, it is perfection. Not since Arrested Development and The Office have I fallen in love with a show like I have with Schitt's Creek.
The show, which just finished its third season, centers on the Rose family, who are forced to leave their pampered lives of luxury after their video store chain goes bust. Within the first few minutes of the first episode, nearly every possession is seized — except for a tiny town in the middle of nowhere called Schitt's Creek, which Johnny Rose had purchased years ago as a joke. With nowhere to go, the family grudgingly retreats to Schitt's Creek.
Every episode is more delightful than the last, and its subtle humor is both witty and smart in a way that leaves you feeling like you are in on an inside joke with the cool kids. I don't want to spoil the fun so let me just introduce you to the Rose family:
There's Johnny Rose, played by Eugene Levy (think American Pie and Best in Show). He tries to keep the family in good spirits, bless his heart, but they are living in a town called Schitt's Creek. There's a fine line between being a glass-half-full person and delusion, and Charlie walks that line.
Johnny is married to Moira, played by Catherine O'Hara. A former actress, Moira is self-absorbed, narcissistic, and bitter as hell. Oh, and she has great wigs and horrible taste in fashion. She nails this role in a way that can't be described. You must watch.
Then there's Johnny and Moira's son, David, played by Eugene Levy's real-life son, Daniel Levy. David is, in a word, EVERYTHING. (Team Scary Mommy is slightly obsessed with him.) And if David is everything, David's sweaters are the sprinkles on the top of this acerbic sundae of awesomeness. Seriously, I could eat David with a spoon. (Okay, that sounded way creepier than I mean.)
Johnny and Moira also have a daughter named Alexis, played by Annie Murphy. Like her mom, Alexis is also self-absorbed and narcissistic, but in a cute way — a funny, relatable way — if that makes sense. Alexis can best be summed up with this quote: "Do I have to remind you of the time I was taken hostage on David Geffen's yacht by Somali pirates for a week and nobody answered my texts?"
There's also Stevie (one of my personal faves), the front desk clerk at the hotel where the Rose family lives who is, in her own words, "incapable of faking sincerity."
The show is rounded out by a handful of other characters including Roland Schitt, who's the mayor of the town (because of course), his wife Jocelyn, and their son Mutt, who is the town heartthrob. Because every show needs a character named Mutt Schitt.
If you're in the mood for a funny, feel-good show that will make you literally laugh out loud and want to binge-watch a whole season in one sitting, this is the one for you. The show is available on Netflix and Amazon. Until you're able to tune in, I'll leave you with the irreverent words of David Rose: "I could not be more at one with nature. I do Coachella every year so…"
This post contains affiliate links, which means we receive a small portion of the sale if you make a purchase using these links.
This article was originally published on