'Schitt's Creek'-Themed Wine Glasses Are Here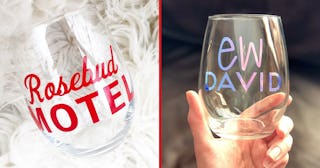 lattesandcastles/KillerConceptsKC/Etsy
Schitt's Creek wine glasses are here to get you through the lockdown
Schitt's Creek ends tonight, yikes that sounded dark, I mean the season finale airs tonight on PopTV. Schitt's Creek is a truly joyful show, which is what we need during these trying times, so if Schitt's Creek was getting you through the coronavirus lockdowns and the reality that after tonight there are no more new episodes is hitting you hard, then boy, do we have a product for you. Schitt's Creek wine glasses and goblets!
Right now, two things are keeping the good people of America afloat: Binge watching shows and drinking alcohol. Combine those two, and you've got a recipe for success.
Etsy, which has proven itself the unsung hero of the coronavirus pandemic with its plentiful bounty of cloth face masks, is also home to a number of wine glasses with the best one-liners from Schitt's Creek.
Although David Rose might think that "catchphrase wine glasses" are too gauche to stock at Rose Apothecary, we still recommend that when the current season ends that you pour yourself a glass of Herb Ertlinger's fruit wine into one of these signature glasses, sit back, relax, and hit play on Episode 1 all over again.
How about a wine goblet imprinted with Alexis Rose's signature catchphrase, "Ew, David?'
There are also glasses that just say "Rosebud Motel" in case you want to throw a Schitt's Creek-themed staycation?
Or how about a "Bébé" glass, said in the signature accent of Rose matriarch Moira.
There are even his and hers goblets for a brother-sister duo with phrases like "You Get Murdered First!" and "No! You Get Murdered First!"
We must also immortalize in glass the show that gave us this iconic phrase: "It's my turn to take a selfish."
It doesn't even matter if the wine you're drinking is good, because as the iconic Moira Rose once said, "This wine is awful. Give me another glass."
Although the Rose Apothecary pop-ups have closed, you can relive the small town glory with a wine glass featuring the name of David's successful shop.
Support independent businesses, drink, and enjoy the glory of Schitt's Creek, we couldn't think of a better way to spend our time at home.
This article was originally published on