Scholly, an App for Helping Students Get Access to Millions of Dollars in Scholarship Funds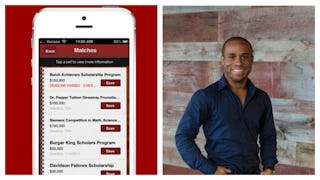 myscholly.com
One of the biggest challenges parents face is paying for college. It's rare that they can afford to pay for college completely out of pocket. Most students and their families are forced to find money to pay for tuition through financial aid — grants, loans, and scholarships. But for many families where parents are likely to still be paying off their own student loans, or low-income families, loans are not always an option.
Scholarships are probably one of the best options for paying for college, but also one of the hardest to come by. Enter Scholly, a new app that sources hundreds of scholarships and puts the opportunities to access them right at the fingertips of the students who so desperately need them.
Founded by Christopher Gray, Scholly is the resource many students and their families need. According to the Scholly website, Gray, a young black man whose mother is a single parent, earned $1.3 million in scholarship funds to cover his four years of tuition (plus room and board) at Drexel University.
Scholly founder Christopher Gray
How? Hard work, tenacity, and an overwhelming desire to attend college. Using free computers at the local library because he didn't have internet access at home, Christopher Gray spent seven months searching the internet to find scholarship opportunities. "There was information online, but it was scattered all over, and often outdated. I did a lot of googling," he said. That is one of the biggest challenges with finding scholarships — the opportunities are there, but the amount of work just to find them is often daunting. You only hear about high-profile scholarships, like ones from the Bill and Melinda Gates Foundation (which Gray was a recipient of) or the United Negro College Fund.
But there are other scholarships out there, if you know how to look. With the help of Scholly, thousands of students (high school seniors, undergrads, and graduate students) have received approximately $70 million in scholarship funds to date.
That's huge.
Scholarship money is free money (unlike a loan, it doesn't have to be repaid) and one could argue that's why it's so hard to find. I remember as a high school student trying to find scholarships that I qualified for was a challenge, and feeling overwhelmed by the process, I just gave up. I ended up taking out loans, and now like many of my peers, I am saddled with crushing student loan debt.
I would have loved a resource like Scholly that could have taken out the guesswork of the scholarship-hunting and application process. Scholly doesn't just give students the access to the scholarships, it also gives them tips and tricks to ace the application process. With a frequently updated database, students remain up-to-date on new opportunities, so the search can be ongoing. (You can access the database through the company website, but you can't apply directly to the scholarships through Scholly yet. They're working on it though!)
And it's not just the students who use Scholly singing its praises. Two years ago, Christopher Gray took Scholly to the ABC show Shark Tank and got Daymond John and Lori Greiner to team up and invest. Their investment caused the biggest fight in Shark Tank history when the other three Sharks got mad that their co-hosts were willing to invest with minimal information, simply because they believed in Christopher and his mission.
Another supporter? Actor/activist (and overall amazing human) Jesse Williams, who is chief brand ambassador and a member of the board. There is a monthly fee for access to the database, and users say it's worth it because they found (and received) scholarships that they wouldn't have without the service. If you know a teenager or college student in need, you can gift them a subscription to Scholly. Schools and other youth-focused organizations can also take advantage of this option. This is a great resource for getting tuition money into the hands of our future leaders. Let's utilize it.
This article was originally published on