Scholastic Comes Through With Free Home-Learning Activities For Elementary Kids
by Amber Leventry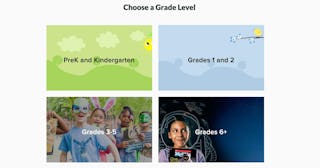 Scholastic
Information about COVID-19 is rapidly changing, and Scary Mommy is committed to providing the most recent data in our coverage. With news being updated so frequently, some of the information in this story may have changed after publication. For this reason, we are encouraging readers to use online resources from local public health departments, the Centers for Disease Control, and the World Health Organization to remain as informed as possible.
Like most parents in America, my kids will not be in school for the next few weeks because of the coronavirus pandemic. I realize some areas are out for twice that amount of time and possibly indefinitely. It's humbling and mind-boggling trying to figure out how to work at home with a nine-year-old and twin six-year-olds demanding my attention, bickering, and needing snacks. I am also trying not to freak out knowing I will have three active, social, playdate-seeking children stuck with just each other for at least the next two weeks during our efforts to socially distance ourselves. We had a family meeting a few days ago and the kids decided they want to keep learning while they are out of school; they want to do a version of homeschooling. Shit. I mean yay. I enthusiastically said we could do that, then enthusiastically searched the internets for help. Scholastic is about to save the day (and me) with their free, online Learn at Home activities.
Book fairs, book orders, and the circling of items in the glorious, newsprint Scholastic order forms bring me limitless joy. Childhood memories do not exist without Scholastic books. When I see the book orders come home in my kids' backpacks I get more excited than my kids about flipping through the mini catalogs. They love to read and enjoy books as much as I do, and the variety of affordable and diverse books makes it easier to give my kids money that is coming out of a tight budget. Scholastic's commitment to kids, students, and teachers is obvious. From providing free learning materials to classrooms to their credo, which includes the goal to "help build a society free of prejudice and hate, and dedicated to the highest quality of life in community and nation," Scholastic is a light that helps us shine brighter.
With widespread school, library, and other municipal closings due to the coronavirus pandemic, Scholastic is providing 20 days of content for free on their website. The first five days are already available and the next 15 are coming soon. Caregivers can choose four different grade levels: PreK and Kindergarten, Grades 1 and 2, Grades 3-5, and Grades 6+. Each day's activities provide roughly three hours of learning and fun for our elementary school kids. There are articles to read (with a text to speech option), stories to watch and listen to, virtual field trips, and worksheets or prompts with each lesson to challenge our learners in fun ways.
I will always be grateful for the professional teachers who make it their life's work to teach children. I am in awe of the parents who homeschool their kids. I am actively involved in my kids' school and their education, but I have never wanted to be the one responsible for all of their schooling. But here we are—for now. While I am trying to have a flexible mindset for the next few weeks, I also know a routine and expectations are important for my mental health and my kids' emotional needs and behavior outcomes. Thanks to Scholastic, I have four weeks worth of material to keep my kids engaged. And to be honest, I am pretty excited too.
I clicked through all of the age groups and they are equally cool. The sections for the younger grades incorporate books read to kids through video with either still or moving pictures. There is then an educational video and activity to do that aligns with the day's theme. The first lesson my first graders will do is called Animal Studies—Spiders. They will have Diary of a Spider by Doreen Cronin read to them and will then read along to a nonfiction early reader about spiders. An educational video and then a draw and write activity will follow.
The books are viewed through BookFlix, which (OMG) gives you access to all kinds of books from favorite authors in nine different categories. I may have just spent 20 minutes drooling over all of the books I want to read—er, want my kids to read while we have our afternoon snack each day. The BookFlix section offers age appropriate word puzzles, short literacy lessons, and links to keep digging deeper into the each book's theme.
The videos that accompany each lesson are done through Scholastic's Watch & Learn library. Each lesson offers key words to be on the lookout for and then a short comprehension quiz after. The Watch & Learn section also comes with printable "Think Sheets" that prompt readers (both beginning and strong) to examine what they just watched. These sheets are available for English and Spanish readers and writers. Some of the additional video categories are Social-Emotional Learning, Health and Safety, and Physical Science and Engineering.
My 3rd grader is going to love her lessons too. I am excited to have her take a virtual field trip to the Museum of the American Revolution with her tour guide Lauren Tarshis, author of the I Survived book series. After that she will learn about otters, meet a domino designer who builds using math, and debate which makes a better pet: cat or dog. And this is just one of 20 lessons! Is it wrong that I want to be a 3rd grader again?
I am trying to keep a healthy perspective during a scary and unknown time. My kids and I are strong and without underlying risks that would make it especially dangerous or deadly if one of us should test positive for COVID-19. We are able to hide away for a couple of weeks while the spread of this virus slows. While I am losing money and gaining layers of stress, I know others have it worse. I allowing myself to whine a bit, but am focusing on gratitude. I am grateful for so many online resources to keep my kids connected to the outside world, a learning environment they crave, and fun activities to keep them from turning on me or each other during moments of boredom or frustration.
The next few weeks are going to be long, but just when I couldn't get any more excited about Scholastic they give us more light–and reasons to love them–during a dark time.
This article was originally published on