22 Kids, 6 Teachers Killed In Horrific School Bombings In Syria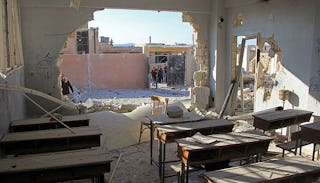 A general view shows a damaged classroom at a school after it was hit in an air strike in the village of Hass, in the south of Syria's rebel-held Idlib province on October 26, 2016. Image via OMAR HAJ KADOUR/AFP/Getty Images
School bombings in Syria one of the deadliest attacks in civil war history
Innocent children sat in their classrooms as bombs came down around them in Syria on Wednesday. Initial reports show that at least 22 kids and six teachers were killed in what UNICEF said is one of the deadliest attacks on schools since the civil war started five years ago.
Three schools in northern Syria were the target of deadly airstrikes in the village of Hass, NPR reported. "This is a tragedy. It is an outrage. And if deliberate, it is a war crime," UNICEF Director Anthony Lake explained. "Children lost forever to their families … teachers lost forever to their students … one more scar on Syria's future."
Since the horrific attack just happened, the death toll is expected to climb. It's unclear how many other people were hurt but survived. One witness, activist Marwan Hamid, lives near the schools that were attacked. He counted seven airstrikes and told reporters that "four teachers lost their lives; so did the school custodian. First-responders and neighboring residents were killed in successive strikes. But most of the victims were children."
Children.
This isn't the first attack on a school. In 2016 UNICEF said it verified at least 38 attacks on schools – in government-held and rebel-controlled areas. Before Wednesday's bombings, 32 Syrian kids had been killed this year while at school. Last year, 60 attacks happened at schools, according to UNICEF records. One in three schools in Syria has been bombed so badly that it's unusable.
The world watched as a 3-year-old was pulled from the water he drowned in alongside his brother and mother as they tried to flee from the war. We watched again as 5-year-old Omran Daqneesh sat stunned after a deadly attack in Aleppo. Even our children know this nightmare must end. Six-year-old Alex from New York wrote to President Obama because he wanted to help the refugees fleeing their homes hoping for the chance to live another day.
Targeting children is deplorable. If these are not war crimes, what are they? When will this nightmare end for the innocent civilians suffering through these attacks? The death toll has climbed past 450,000 — and 50,000 children have lost their lives.
If you'd like to help in any way, here are a list of organizations dedicated to helping Syrians survive.
[free_ebook]