Watch As This Hero Bus Driver Yanks Student Away From Speeding Car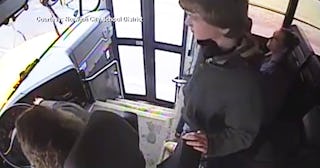 Norwich City School District
A heroic school bus driver saved a boy from a potentially fatal accident
Every few months we hear tragic stories of speeding vehicles hitting school children as they enter or exit their school bus. As motorists continue to disregard traffic laws governing parked school buses, these tragic stories will continue to trend, but one heroic bus driver with quick reflexes saved a student from ending up another statistic.
On May 9, 2019 in Binghamton, New York, bus driver Samantha Call watched as 13-year-old Matthew Squires almost walked off the bus and directly into a speeding vehicle. Call quickly grabbed the kid by the back of his shirt and pulled him back into the bus to safety.
"Here comes a silver car on the side," Call told CBS affiliate WBNG News. "Matt is probably the third step down now, and all I could think of was Matt is going to get hurt, so I just pull him."
The bus' security footage captured this heroic feat and the boy's mom, Christina Beardsley, cried when she watched it.
"I cried. I honestly cried," she said. "If she hadn't had been so vigilant and looking behind her bus because no one really thinks of someone coming on the door side of the bus…It's a big yellow school bus. Its lights are on. Its doors are opening. The stop sign is out. I mean, you are supposed to stop for the bus."
Beardsley is absolutely right. The law states that cars are supposed to stop when a school bus stops and flashes its red lights, but sadly, this law is violated all the time. The National Association of State Directors of Pupil Transportation Services surveyed 97,000 school bus drivers across the country in 2014 and learned that more than 75,000 drivers illegally drive past school buses every day. That is 13 million violations every school year. According to the National School Transportation Association (NSTA) (via U.S. Congressman Anthony Brindisi), an average of nine to 15 children are killed each year while boarding or exiting school buses near traffic.
Unfortunately, motorists are either unaware of this law or are blatantly disregarding it. Three siblings were killed by a passing car in October 2018 in Indiana when they crossed the street to board the bus. Another child in Mississippi lost their life that same month when they attempted to cross the street and board the bus where it was parked. A 7-year-old boy in Pennsylvania was waiting at his school bus stop in November 2018 when he was struck, and killed, by a speeding motorist.
In each of these instances, students were struck by cars who blatantly ignored the parked school bus nearby. There are also related instances of cars hitting children who were waiting for the school bus to arrive. An eight-year-old girl was struck and killed while waiting with her sister at a bus stop in North Carolina yesterday. Another 8-year-old died in Florida in March 2018 when she was struck by a speeding car in the early morning, who presumably didn't see her waiting on the corner in the dark for her school bus.
As for our shero bus driver in New York, Call told the news: "I'm so glad I was able to send him home to his mom cause I don't know if I could have gotten back on that bus had I not been able to. I don't think I could ever touch a school bus again."
We're sending so much love to Samantha Call for saving 13-year-old Matthew and preventing him from ending up another statistic.