Community Of Anti-Vaxxers Hit With Worst Chickenpox Outbreak In 20 Years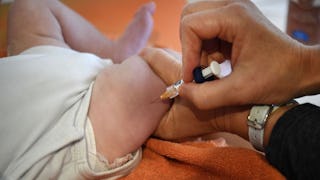 Image via Getty Images/ FRED TANNEAU/AFP
110 out of 152 students at the local school have not received the chickenpox vaccine
A chickenpox outbreak at a private school in Asheville, North Carolina is now considered the state's largest since a vaccine for the virus became publicly available over two decades ago.
Cases of chickenpox have been growing at the Asheville Waldorf School, an elementary school for students in nursery school through sixth grade. As of Friday, there were 36 cases reported by the school, the Asheville Citizen-Times reported.
According to the Citizen-Times, many Asheville families claim religious exemption from vaccines. During the 2017-18 school year, of the school's 152 students, 110 had not received the chickenpox vaccine according to data from the Department of Health and Human Services.
"The school follows immunization requirements put in place by the state board of education, but also recognizes that a parent's decision to immunize their children happens before they enter school," the school said in a statement to Blue Ridge Public Radio.
Jennifer Mullendore, Buncombe County, N.C's medical director, had this to say. "People don't think it's a serious disease, and for the majority of people it's not. But it's not that way for everybody," she said. "Two to three out of every 1,000 children infected with chickenpox required care in a hospital. To me, that's not a mild disease, and if you're the parent of one of those children, you probably don't think so either," she continued. "We want to be clear: Vaccination is the best protection from chickenpox."
Mullendore is right. For those saying, "Oh we all had chicken pox as a kid, what's the big deal," it's actually a bigger deal than most people think. According to the CDC, chickenpox can be serious, even deadly, especially for babies, adolescents, pregnant women, and people with a weakened immune system. It can also cause pneumonia, infection or inflammation of the brain (encephalitis, cerebellar ataxia), bleeding problems, and bloodstream infections.
The bottom line? It's preventable. Why wouldn't a parent want to protect their child, and others, from contracting a virus (and all the possibilities above) that's avoidable? But Asheville is one of a growing number of communities deciding against vaccinations. According to the CDC, the percentage of children under 2 years old who haven't received any vaccinations has quadrupled since 2001.
"The thing people need to understand is that when you have pockets of unvaccinated people, they serve as reservoirs for disease," said Susan Sullivan, a nurse with the state DHHS told the Citizen-Times. This means those with compromised immune systems — like people going through chemo, newborns, women who are pregnant — become more at risk for illness because of the uneducated decisions of a few.