School Creates Absurd Prom Dress Code Video, Completely Forgets To Mention Male Students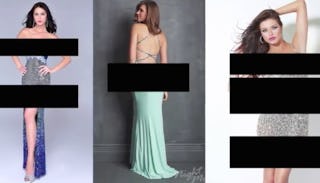 A high school created an awkward prom dress code video that only targets female students.
Shopping for teen formal wear is usually a time-consuming nightmare, but a North Carolina high school has introduced some guidelines for their female students that are making it even more difficult. In a super awkward video that's making the rounds, school administrators are shaming female students for not dressing "prom 'propriate" and yes, it's exactly as stupid as it sounds.
The video, which was uploaded in December but is just now making headlines, was created by a media class at Cleveland High School. It opens like a game show with a title credit that says, "So You Think You're Prom 'Propriate?" After that, the show's "host" — a teen boy — introduces himself and a panel of teen judges. Groups of dresses are shown, and the judges hold up signs letting students know if the dresses are appropriate or unacceptable. Spoiler alert: only three of them pass the test.
The video specifies that dresses should not have hems or slits that go more than three inches above the knee, should not be "overly revealing," should not feature a plunging neckline, and should not be made of nude or sheer material. As an example, rejected dresses in the video include styles like these:
Or these, which actually cause the entire panel of judges to fall over in their seats in horror. The video even goes so far as to black them out because, a strapless gown?! Why, that's practically pornographic!
Tracey Peedin Jones, the school district's Public Information Officer, tells UpRoxx administrators made the video because of unspecified "problems" they had at last year's dance. "The prom's such a special event for our children," said Jones. "We wouldn't want it to be ruined by any confusion." She also included an official statement from administrators that reads:
The Cleveland High School student produced video focused on being prom appropriate in order to help students understand acceptable and unacceptable attire for the prom. Because the prom is such an important and festive event in the lives of students, Cleveland High student media production team wanted to ensure that everyone in attendance was able to enjoy their time instead of being concerned about appropriate attire.
Their statement is interesting because if anything would make students "concerned about appropriate attire," it's definitely this video asking them to measure the exact distance from their hemline to their kneecap or search for a dress with such non-specific requirements as "nothing overly revealing." This video isn't about helping "students" understand anything. Rather, it's about dissecting female bodies and shaming them for the horror of showing their shoulder blades.
The school didn't even attempt to address traditional male attire in their video. Tracey Pedin Jones tells UpRoxx that's because boys don't usually dress in a way that's "problematic" enough to warrant a condescending three-minute video, but it kind of makes you wonder, what's so damn problematic about a girl in a strapless dress? None of the rejected dresses featured in the video show off anything "private" and a little bit of leg on a fancy night out is not going to ruin anyone's night.
The intent of this video may have been to educate students about appropriate dress, but all it really did was send a message that female bodies are inherently risqué — so much so that a young woman with a bit of colored mesh over her abdomen makes a whole panel of students fall over in their chairs. There are a lot of ways both males and females can dress "inappropriately" for a black tie affair, and it's a shame these administrators couldn't find a better, less sexist way to talk about that.