13-Year-Old Starts A School Donations Closet For Classmates In Need
by Leah Groth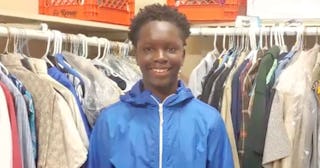 GMA
"I wanted everyone to feel equal," explains Chase Neyland-Square, the brainchild behind PAM's Pantry
Not everyone can afford back-to-school clothes and other basic necessities, so one Louisiana middle school student is doing his part to make sure that his fellow classmates are fully outfitted this school year. Chase Neyland-Square, an eighth grader at Port Allen Middle School is the person behind PAM's Pantry, a closet located at his school filled with donated clothes and other basic items to keep those in his community feeling their very best.
"I know that everybody doesn't have things and I'm fortunate to have things that other people don't have. I look at it as sometimes, how would I feel in this situation?" he told local CBS affiliate WAFB. "I wanted to make a difference in the school because I wanted everybody to feel equal. Sometimes kids have less confidence in the classroom because of their apparel or what they have on."
The closet, located behind his school's stage, is filled with everything from outerwear to dresses, as well as school supplies such as pencils, markers, binders and sharpeners, and even hygiene products. Items are donated by people in the community, and all families who live in the community — not just students — are invited to take whatever they need, no questions asked.
"My favorite part about helping with the pantry is getting types of clothes and sorting them out to give to various people," Chase told Good Morning America. "It makes me feel good because I know that I can make a difference in my school."
The altruistic idea came to Neyland-Square during the school's SPARK, which stands for Student Program for Arts, Recreation, and Knowledge, summer program implemented by Principal Jessica Major. Students are asked to come up with ideas and then work to implement them.
"We ask them what they want to do to make the school better and through that, we have changed drastically some of the things that we do here at Port Allen Middle School," Major said.
According to Chase's mother, Amanda Square, her son finds great joy out of helping others. In addition to PAM's Pantry, he has also given back to his community by hosting dinners for senior citizens, and even donated 700 pairs of socks for the homeless once. "He seems to have a great passion for people," Square told GMA. "It makes me proud because we're very blessed and I always encourage him to bless others."
Neyland-Square wants to grow PAM's Pantry into something bigger, hoping to one day turn it into a non-profit organization.
This story is such an important reminder that each and every one of us has the ability to help others in need. If a 13-year-old can make such a big difference in his community, imagine what the rest of us can do.