School District Changes Dress Code After Mom Invites Principal 'Take Her Shopping' Herself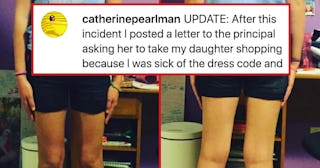 Catherine Pearlman/Instagram
The mom's daughter was also called a "distraction" for male students
School dress codes continue to be a sore subject for parents and, let's be clear, mostly for female students. One mom called out her daughter's school principal after being dress-coded twice in one week because her 13-year-old's fingertips hit below her shorts, deeming her "a distraction" to boys. It seems the school finally landed on the right side of history, changing its policy for good two years after her initial complaint.
Catherine Pearlman, a licensed social worker and author, wrote a letter to her daughter's principal and posted it on her website TheFamilyCoach and on the community TODAY show website back in 2017. In it, Pearlman laid into the administration for calling her daughter out, both as a distraction and for someone whose height makes it nearly impossible to find clothes that would be "appropriate" to wear to school.
"Dear Middle School Principal: Thank you for sending a note home for the second day in a row to say my daughter was dressed inappropriately for school," Pearlman wrote in her original Instagram post. "I'd like to offer an additional thank you for forcing her to change into large mesh shorts that have been worn by only god knows who and potentially never washed…To reward you for treating my daughter with such concern, I am cordially inviting you to take my daughter shopping."
Pearlman went on to give the principal some key metrics to keep in mind should he take her up on the offer. "Here are the specifications you have to work with. I wish you loads of luck. She is 5'7″ and 13 years old. Built more like her father, she has exceptionally long legs and arms," she wrote. "She doesn't like anything pink or purple or frilly. No item of clothing can have a logo visible because to her that's not cool. She will however, wear any type of superhero, Green Day or USFL T-shirt if you can find them."
Pearlman ended her original letter by driving the point home that it's not up to girls to decide whether boys can adequately concentrate or not in school (or anywhere else, for that matter). "I forgot to thank you for making it clear to my daughter that her body is somehow a distraction, either to herself or to the boys," she said. "I thought she might have missed the message earlier in the year when the gym teacher told her she couldn't wear yoga pants because the boys aren't able to control themselves. I appreciate how hard you are working to drive the point home."
After reviewing the policy, the school district (50K students large) decided to amend the code, and, according to Pearlman in an updated Instagram post, made it "more flexible in what can be worn." The bigger win — determining that it's no longer acceptable for the district to say girls are a distraction because of what they wear to school.
It's about time.