I Wasn't Emotionally Prepared For The School Lockdown Drills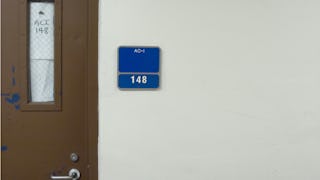 Carsten Reisinger / Shutterstock
This entire summer was nerve-wracking for me. I have a son with special needs, and a very late birthday. Born just two days before the cut-off date, I went back and forth over whether or not to redshirt him until next year.
And as a child with autism, I worried over whether or not the school and the county would be accommodating of his needs. I worried over his ability to function in the classroom and how he would make friends. I worried if my chatty boy would have enough time to eat his lunch. I worried that the loud alarm during a fire drill would be too much for his sensory needs.
I was so stressed leading up to his first day of school that I didn't feel emotional or nostalgic when I walked him into his new school. We spent a few days prior touring the building so he could get used to his surroundings and learn where things were before he was overwhelmed by all the other kids.
So when the first day came, everything felt rote and like I was going through the motions. All of my friends posted online about driving away from their first drop-off in tears. I was lucky to be too busy that first week to do much of anything besides rush out the door with him in the morning or rush back out the door to pick him up, not leaving me much time to wallow in worry.
We bought a house last year that is actually right behind his elementary school. If I look out my kitchen window, I can see the swings on the main playground. Fortunately or unfortunately, depending on how well you know me and my current mood, I cannot see the kindergarten playground unless I walk to the back of my yard because it is too far to the side. I would need binoculars to see him clearly. I have not bought binoculars yet, so I take that as a sign that I am handling the transition to not having my son by my side during all hours of the day exceptionally well.
But a few days in, I finally broke down. My windows were open on a beautiful day and I could hear his principal outside. He has a kind and measured voice when speaking one-on-one with the students, but he also has a booming voice when necessary. That's probably a requirement in being an elementary school principal. I looked out the window to see tons of kids lined up while the principal reminded them to keep their hands to themselves and their eyes on their teachers.
It was the first fire drill.
I lost it. Loud noises have always been a huge struggle for my son, and his sensory needs can make them unbearable. I wanted to hop my fence and find him. Hug him. I wanted to make sure he was all right and to tell him that he was safe. I silently willed him to be brave.
I did not run late for pickup that day.
Expecting to find my 5-year-old stressed and worn-out, I was surprised that he was as bubbly as always. When asked about his day, he told me about friends he played with and activities he enjoyed with his class. Finally, I asked him about the fire drill. I had expected him to mention it on his own, and he never did.
When I asked him if his ears hurt, he told me that there wasn't an alarm. He informed me that it was a "lockdown drill, not a fire drill." My heart fell straight into my gut.
Did that scare him?
"No, Mommy. It's just pretend," he said in a way that felt like he was trying to calm my anxiety, as I had intended to do for him.
After we arrived at home, he started laughing about how he couldn't fit in a closet with his friends.
What was he doing climbing into a closet?
"For the lockdown drill, Mommy. I was too big!"
And with that, he threw down his backpack and ran to his room, eager to play with the Paw Patrol toys he missed all day.
I stood there for a moment. As my brain processed what my son had just said, I felt like the wind had been knocked out of me once again. Standing in my living room, sobbing for the second time that day, I was horrified by the images in my mind of my son not being able to hide from an active shooter. That there might not be room for everyone.
My baby.
His school may be right behind our house, but in that moment, it felt miles away. I spent the entire summer thinking about how to keep him safe and set up for success. The realization that there were things in life I can't protect him from, and that I am truly putting all of my trust for his well-being in the hands of his school, left me feeling an unsettling loss of control. I am not prone to helplessness, but this was an instance when I felt it. Deeply.
I know that his teacher directed him to hide somewhere else, and I know that his school has lots of procedures and security measures in place to keep my child and the rest of the students safe. But with all the time I spend worrying and planning, I was taken aback when I realized I forgot about those damn lockdown drills. I forgot that our schools are now, far too often, a target for violence.
And that now, my sweet, innocent, amazing baby boy will have to prepare for that. Gut punch.