School Nurse's Heartbreaking Post Asks People To Donate Feminine Hygiene Products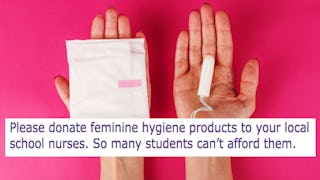 Image via Getty/Reddit
Not all schools provide free pads and tampons
A school nurse took to Reddit to put out a heartbreaking plea for feminine hygiene product donations. Buying tampons can be a difficult expense on some families and many students can't afford to purchase them.
"Out of 400 menstruating girls maybe 20 have a hard time getting access to pads or tampons," she wrote on Reddit, in regard to students at her school. "That's still 20 too many."
The Reddit user went on to say that she uses her own money to purchase tampons for her students, and noted that many other school nurses have to do the same thing. "We have programs for free lunch and we even have a program where we send home food for the weekend," she wrote. "But nothing to supply these girls with tampons."
Perhaps the most gut-wrenching part of the post was the exchange the nurse shared, where she said she spoke with a student who felt too guilty to ask her father for money to buy tampons:
Her – "My dad used quarters to pay for gas this morning. I'm not asking him for $5."
Me- "Ok sweetheart. I'll get you a couple boxes for home. But what do you usually do at home when you start your period?"
Her- "I use toilet paper."
Absolutely heartbreaking, isn't it?
Some states, including Illinois, and California, have passed a law requiring schools to supply feminine hygiene products to students for free. The Illinois law, in part, reads: "Feminine hygiene products are a health care necessity and not an item that can be foregone or substituted easily. When students have access to quality feminine hygiene products, they are able to continue with their daily lives with minimal interruption."
Yup, yup. Sounds about right. Here's hoping that other states follow suit. In the meantime, if you happen to live somewhere where schools don't supply feminine hygiene products — definitely donate supplies if you can.
"These girls aren't too embarrassed or lazy or forgetful. They're poor and they can't help it," the school nurse concluded on Reddit. "So when you're sending school supplies drop off a box of tampons and see one grateful nurse!"
This article was originally published on