School Resource Officer Uses Taser To Wake Up Sleeping Student
by Cassandra Stone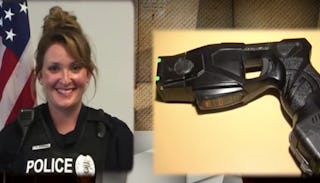 Image via News 5 Cleveland
The officer has since been placed on unpaid leave for using her taser irresponsibly
A school resource officer in Smithville, Ohio, has been placed on unpaid disciplinary leave after using her taser gun to wake up a sleeping student. The student wasn't harmed, but this isn't the officer's first misuse of her taser gun — and her job is now in jeopardy because of it.
Cameron Kosunick, a 16-year-old junior at Liberty Preparatory School, says he wasn't feeling well during school recently. During study hall, he says he laid his head down on the desk and ended up falling asleep. "I guess while I was asleep (the teacher) tried to wake me up, and I guess it didn't work," Kosunick tells FOX 8 Cleveland.
Apparently, that's when school resource officer Maryssa Boskoski entered the room and promptly drew her taser, intending to arc it so the noise would wake him up. "She apparently thought that it would be effective to arc her taser, making just the sound, not actually putting it in contact with the student, and not shooting the probes out of the taser or anything," says Smithville Police Chief Howard Funk.
There are so many warning bells going off here. One, is it the job of a school resource officer to wake a sleeping student? I mean, really. Secondly, why would any trained officer think it's a good idea to whip out a taser during a situation like this?! It doesn't matter whether Boskoski intended to harm the student or not, this is a completely irresponsible abuse of power. What if something had gone wrong — as weapons of any kind are wont to do, especially in classrooms — and Kosunick or anyone else nearby had been hurt? What was the point of this?
It's also not Boskoski's first time using her taser improperly — there's your third warning bell. FOX 13 reports that earlier this year, she neglected to remove the cartridge from her taser before conducting a spark test, causing it to deploy near another officer. At that time, she was told any further negligence on her part would mean disciplinary action.
Though no one was harmed, Chief Funk says her decision to use her taser inappropriately violates department policy. "It prohibits an officer from brandishing, displaying, or in any other way using the taser unless the circumstances are such that the officer believes they may have to use it or has a reasonable expectation that they would have to use the taser to protect themselves or someone else," he tells FOX 8.
For his part, Kosunick says he doesn't want the officer to lose her job, regardless of her inablity to think through this entire situation before acting on it — something that should be a top priority of a school resource officer. "She needs to know that wasn't right," he says. "That she shouldn't have done that under any circumstance unless she was in danger."
This article was originally published on