School Replaces Detention With Meditation And Kids Are Thriving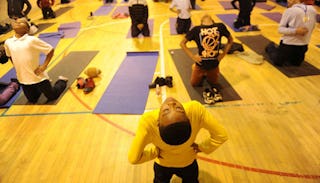 Photo by Colby Ware via OSI-Baltimore.
Robert W. Coleman School replaces detention with meditation to help elementary students
A school run by some pretty smart folks in Baltimore has gotten rid of the outdated, useless tradition known as detention. In its place, folks at the Robert W. Coleman School have created a meditation program for students. We'd love to see every school start an initiative like this one because, honestly, did detention ever help anybody?
Instead of staring at the walls, kids attend the Holistic Me after-school program where they learn how to practice yoga, mindfulness, meditation, centering and breath work. "Combined with extra-curricular and academic components – and dinner – the award-winning after-school program empowers youth with the skills for peaceful conflict resolution, improved focus and concentration, greater control and awareness of thoughts and emotions, improved self-regulation, anger management and stress reduction," the Open Society Institute-Baltimore wrote about the program. The society helps fund the after-school time.
All that centered energy is helping the kids perform better in school. "Since first taking part in the program two years ago, Robert W. Coleman hasn't issued a single suspension," Bored Panda reported.
"Kids in underserved communities might be stressed because they can't eat, they don't have food or they come to school with their clothes dirty and they get joked," explained founder Ali Smith. "Kids at private school are stressed too. They have achievement anxiety or they're not connecting with their parents because they're traveling or working. It just manifests itself differently. But it can be damaging, no matter what, if they don't learn how to address it." Smith started Holistic Me with his brother, Atman Smith, and they've since brought on their best friend, Andrés Gonzalez.
The brothers owe their deep knowledge of meditation to their father. "Our Dad would make us meditate before school every morning," Atman shared. "As young adults, we all got into our own personal yoga practice. But then we realized we shouldn't be the only ones feeling this good. We had to share it." And shared they have, Holistic Me is in its 15th year and now serves more than 120 students in 13 city schools alongside some independent schools.
The classes help students practice mindfulness in stressful situations. "It helps you stay focused," first-grader Tamia Anderson, 6, explained. "It helps distract [me] if anybody is talking to me badly. It makes me unmad." Kids are also learning what it's like to lead because Holistic Me's yoga lessons are led by a student while an adult supervises. "The coolest thing about what we do is we empower kids and help them develop leadership skills," Gonzalez shared. "Then they can teach other people."
In addition to the yoga, breathing exercising, and meditation, kids are offered a variety of things to do like badminton, basketball, woodworking, art, entrepreneurship, martial arts, dance, steel drums and STEM activities. Volunteers are also there for homework help and tutoring.
The process helps the kids long after they leave the program, too. "We're giving them the physical, mental and emotional tools to deal with the stresses of life," Ali said. "That's something they can use right now, in class and at home, but also that they can use for the rest of their lives. It gives them a place where they can always have some inner peace. We tell our kids, 'Outside it can be chaos, but you always have this place you can go to inside; it's yours, and no one can take it away from you."