Study Finds School Security Measures Don't Make Kids Any Safer From Gun Violence
by Valerie Williams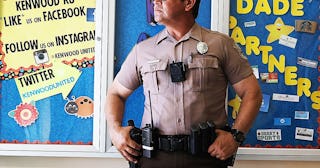 Joe Raedle / Getty
School security measures mostly provide "a false sense of security" according to researchers
A new study published in the journal Violence and Gender found that security measures schools undertake with the aim of keeping kids safe from gun violence don't actually do much. Actually, the research has proven it's only giving "a false sense of security."
According to The Washington Post, researchers at the University of Toledo and Ball State University reviewed 18 years worth of data on school security measures and their effectiveness. The findings? That they're not actually that effective.
"This comprehensive review of the literature from 2000 to 2018 regarding school firearm violence prevention failed to find any programs or practices with evidence indicating that they reduced such firearm violence. Hardening of schools with visible security measures is an attempt to alleviate parental and student fears regarding school safety and to make the community aware that schools are doing something," wrote study authors James H. Price, professor emeritus in the Department of Public Health at the University of Toledo, and Jagdish Khubchandani, an associate professor of health science at Ball State University.
According to federal data, 2018 was a record year for school shootings and gun-related incidents. The Naval Postgraduate School keeps a database of school shootings and according to their stats, there were 94 incidents of gun violence in schools, the most since the data started being collected in 1970.
In the database The Washington Post has kept found that since 1999's Columbine shooting, "more than 226,000 children at 233 schools have been exposed to gun violence." 143 kids, educators, and others have been killed in assaults and 294 have been injured.
The research found that schools use a number of tactics in attempting to keep kids safe including hiring armed resource officers; video cameras; bulletproof glass; metal detectors; educator and staff ID tags, and more. In the end, the conclusion is rather simple, but apparently too big a reach for America to accomplish.
If there were less guns available to kids, there would be less shootings. Researchers say the "ideal method for eliminating school firearm violence by youths is to prevent them from ever gaining access to firearms," but, "unfortunately, studies have found an alarming rate of firearms accessible to youths."
The second tactic is assuming kids can easily get hold of a gun, but preventing them from being able to get the gun inside the building. That's where the security measures come into play. Most schools (94 percent) have monitored doors, written "active shooter" procedures (92 percent), security cameras (81 percent), and a number of other safeguards.
Study authors say these common methods haven't stopped shooters from bringing weapons into schools — and using them. The third tactic? Arming teachers and other school staff "to shoot and kill youth who are shooters." The researchers even have a specific (and incredibly sad) real-life story to illustrate why that's simply not a good idea.
"The problem with this concept of a shootout in the public schools can best be seen with the following example. In the morning of January 3, 2018, a 15-year-old white male walked into Marshall County High School in Benton, Kentucky with a Ruger 9mm semiautomatic pistol and within 10 sec of shooting, he killed 2 and wounded 14 schoolmates. Armed school personnel would have needed to be in the exact same spot in the school as the shooter to significantly reduce this level of trauma. Ten seconds is too fast to stop a school shooter with a semiautomatic firearm when the armed school guard is in another place in the school," they write.
In the end, exactly no one is helped by the methods researchers looked into. But one thing they did conclude — the false sense of safety those methods provide could ultimately prove dangerous. "The adoption of ineffective measures to reduce school firearm violence may lull parents, school personnel, and students into thinking they no longer have to be concerned about their safety at school. A false sense of security is a dangerous environment that is currently being propelled by mass media, interest groups, and policymakers."