Elementary School 'Share Tables' Need To Catch On Everywhere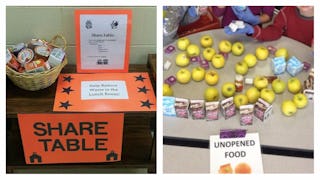 Image via Instagram/wuhanmommmy/sustainableamerica
Schools across the country are using share tables
For at least a year, schools across the country have been creating share tables to save food from being thrown away. The programs end up reducing waste and also help feed hungry kids.
The concept is pretty simple; Drop off any unopened food or drink you don't want at the share table, which remains open for all students to take food from if they see something they'd like to eat. At the end of the day, the leftover food often goes to nearby food bank or charity. It's unclear exactly when share tables launched but several schools across America started their programs after a June 2016 memo from the U.S. Department of Agriculture. The USDA runs the federal lunch program and called share tables "an innovative strategy to encourage the consumption of nutritious foods and reduce food waste."
About 20 schools in Orange County, Florida have share table programs, the Orlando Sentinel reports. One of the schools, Aloma Elementary, gives their leftover food to a nearby church that distributes it in their food pantry and feeds about 100 homeless people every week with the rest. "Without this program, that would literally go in the dumpsters," explained Pastor Stan Reinemund of Redeemer Lutheran Church, which receives Aloma's leftovers. "It really helps us out." The federal lunch program requires students take a certain amount of food that they're sometimes not interested in or too full to eat. Once the food is distributed through the federal lunch program, it can't be served the next day. By having a share table, schools can avoid throwing away perfectly good food.
Schools that don't partner with charities instead send their leftover food home with kids whose families could use some extra help. "Students that are maybe less fortunate than others, don't have a lunch or a snack at school lunch, they can come up and take fruit or we've seen things like chips and yogurt come off the tables," said eighth-grader Nick Iannone, who started a share table at his school, James H. Moran Middle School in Wallingford, Connecticut.
Since the table is open to all students there isn't a stigma attached to it, which is great. It means all kids have access to the food they need without the added pressure of worrying if their classmates or teachers noticed. Iannone told WBUR he hadn't seen any problems at his school. "Most kids usually just stay within their friend group and talk amongst themselves," he reported. "No one really cares what happens, what goes on around the food table."
Hopefully, share tables will become a cafeteria staple in every school. Does your kid's school have share table? Tell us about it in the comments below.