Mother Furious After Her Daughter's Head Is Shaved Without Permission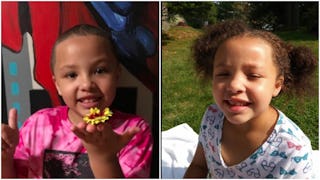 Image via Denise Robinson
Mom plans to sue school for not notifying her
Parents understand that a lot goes on at our kids' schools that we will never know about, and, for the most part, we are just fine with (or even grateful for) that. But when it comes to really important issues like disciplinary problems or bullying, we expect that we're going to get a phone call. We also expect a call before our school does something like shave our child's head. Shockingly, that did not happen for Massachusetts mom Denise Robinson and her now nearly-bald seven-year-old daughter, Tru.
Robinson's daughter, Tru, lives part-time at Little Heroes Group Home in Dracut, Massachusetts, where she receives therapy for severe emotional issues. Last week, Tru came home from Little Heroes looking decidedly different than she did when her mother dropped her off a few days earlier.
One has to assume, however, in a universe that makes sense, that the school had a really good reason for this. In a statement to WCVB, Little Heroes says that this is part of their hygiene program and that it is within their rights to treat hygiene issues as they see appropriate: "Decisions regarding grooming are based on a variety of factors, including hygiene…A review of the circumstances is underway to determine what occurred and, if necessary, appropriate action will be taken."
Robinson flatly denies that there were any hygiene issues: "There was no hygenical reason for them to shave my child's head. There was no head lice. There was no bed bugs. There was no what I refer to as rasta locks going on…Her hair was two pony tails on the side on Saturday and it was braided in the ponytails and there was nothing wrong," she told NECN. And honestly, whether this little girl had lice or not isn't the issue — the issue is that before you shave a child's head, you should talk to their parents first.
I mean, shouldn't that kind of thing be a given?
To make things worse (because why not at this point), Robinson's attorney, Richard Kendall, told CBS Boston: "The volunteer [who shaved the girl's head] informed this seven-year-old biracial child that by shaving her head, her hair would grow back straight…I find that appalling."
Appalling, insensitive, racist, and just plain wrong.
Robinson is removing her daughter from the program and plans to sue.
This article was originally published on