Yes, We Have A New Game Show And No, You Don't Need To Wear Pants To Play It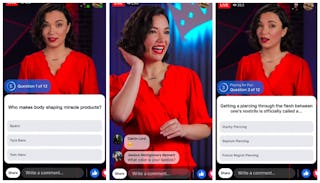 You're going to want to drop everything to play School'd
We could all use an extra $1000, right? And we could all use a little light-hearted fun in our work/stay-at-home/work-at-home mom day, no doubt. Enter School'd by Scary Mommy. The extremely addictive new trivia game just for moms.
Hosted by NYC-based comedians Brittney Jenkins and Kami Dimitrova, the game is easy to play, a ton of fun, and can mean winning big money. Think HQ Trivia, only questions you might totally know the answers to.
Let's break this down, y'all.
First of all, players need to follow the School'd by Scary Mommy page in order to get an alert when a new game starts. That would be every Tuesday and Thursday at 1pmEST/10amPST. Set your phone alarms now like I do for the days my kid needs to bring her violin to school, because if you're anything like me, it'll never happen otherwise. #MomBrain.
You'll need to play on your Smartphone because the game isn't playable on computers, so you'll just have to wrestle it from your Baby Shark-obsessed toddler for a few minutes every day around lunchtime. No big.
Again, it's just like HQ. The host will ask a total of 12 questions, one at a time. You'll have 10 seconds per question to choose an answer from the multiple choices. If you get all 12 questions right, (which, YASS GURL) you'll win the $1000 prize. If you're not the only trivia genius playing to win, you'll just split the $1000 with the others who got them all correct.
A very cool feature of School'd is that players can continue playing even if they get a question wrong–they just can't win the money. Which means you can get in some super low-pressure practice and hopefully, come back and win next time.
Now, you might be wondering about what types of questions we'll ask, and don't worry — they're all geared toward moms and meant to be fun, not stressful. There will be special categories like Old School'd (think fun throwback stuff), That's Sick! (health), Girl Power (women empowerment), Hangry Games (food), Hot and Bothered (relationship/sex). Knowing that the topics are all pretty close to home makes the game a lot more fun.
So there you have it, all summed up. Follow School'd by Scary Mommy so you get the alerts every Tuesday and Thursday at 1pmEST/10amPST. May the odds be ever in your favor.
This article was originally published on