Schools Are Going Mask-Optional — WTF?!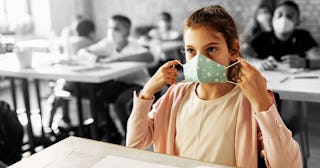 Scary Mommy and Drazen Zigic/Getty
First the CDC gave us some confusing-ass new guidelines. Americans ignored the fine print and freed their faceholes en masse, regardless of their location or vaccine status. (For the record, only fully vaxxed individuals should be unmasked. That includes children). Those recommendations prompted a slew of Republican governors — including those from South Carolina and Texas, which should shock exactly no one — to sign orders forcing schools to go mask-optional. Kids under twelve can't be vaxxed, and older kids won't achieve full immunity by school's end; teachers can unmask regardless of vaccine status. "It is ridiculous for school districts to tell parents whether or not their child should wear a mask in the classroom, that is up to the parent," says South Carolina Governor Henry McMaster:
But South Carolina only has about a 36% completed vaccination rate, according to their state health department, so some teachers are emphatically unsafe: able to contract and spread COVID-19.
Now is definitely not the time to unmask our children, McMaster.
It's Against CDC Recommendations
Topping their guidelines on school reopening, in huge, purple-blocked letters, the CDC says, "IMPORTANT UPDATE FOR SCHOOLS: The CDC recommends schools continue to use the current COVID-19 prevention strategies for the 2020-2021 school year." These strategies include "universal and correct use of masks." The CDC couldn't be less ambiguous: mask-optional = bad idea.
Their own data, published in March, examined COVID-19 cases in Florida school students, and concluded that "school-related disease incidence" was highest in districts without mandatory mask requirements, among other factors. "Success," they say, "in preventing school-related transmission depends upon controlling community transmission and adhering to mitigation measures in schools, particularly masking." They also recommended postponing events, such as athletics, where masking was not possible. Masking, therefore, plays a crucial role in keeping students and faculty safe.
Another CDC study found that mask use in schools dropped COVID-19 incidence 37%. The study concludes that, "Until vaccines are available for children aged <12 years, universal and correct mask use is a critical prevention strategy CDC recommends that schools prioritize regardless of vaccination status for in-person learning."
This is actual empirical, scientific, fact-based evidence on the need for school masking by one of the largest health organizations in the world. We can only conclude that Republican governors don't read. Otherwise, why are we having a conversation about making schools mask-optional again?
Oh yeah: freedom. According to Texas governor Greg Abbott, "We can continue to mitigate COVID-19 while defending Texans' liberty to choose whether or not they mask up." Again, Republicans are using masks as a political wedge issue: you should be able to contract COVID-19 and spread it to whomever because government shouldn't have the right to tell you what to do!
This apparently includes imposing life-saving measures to protect its citizens. Because freedom.
Going Mask-Optional Isn't About Freedom
Dr. Aaron Milstone, a professor of pediatric infectious diseases at Johns Hopkins, explains it this way to NPR: "It would be like saying: You can drive 55 mph if you think that's safe for you, but if someone else thinks they can safely drive 90 mph, their choice may wind up risking your life." Everyone needs to mask to keep people safe. We can't go mask-optional, throw caution out the window for political gain, and see WTF happens.
WTF will happen, according to all available research: an increase in school-related COVID-19 cases.
Lawrence Kleinman of Rutgers University's Institute for Health, Health Care Policy and Aging Research told Politico that, "It seems to be premature to basically say it's okay to put kids out in the atmosphere where they're inhaling breath from people who may have Covid." He says he wouldn't send his daughter to a mask-optional school. He works in public health. He knows what he's talking about.
Katelyn Jetelina, who has a Ph.D. in epidemiology, blogs at Your Local Epidemiologist, and therefore really knows what she's talking about, says succinctly: Masks work. She also says that "Epidemiologists can't help when our solutions are not endorsed… Good luck? May the odds be ever in your favor? Long live freedom?"
Yes, Karen, Kids Spread COVID-19
Harvard Medical School reports that in a study published by The Journal of Pediatrics, COVID-19 infected children, including those who are asymptomatic, carry high viral loads. Lead study author Lael Yonker, Harvard Medical School assistant professor of pediatrics at Massachusetts General Hospital, said that, "I was surprised by the high levels of virus we found in children of all ages, especially in the first two days of infection."
By going mask-optional in schools, we let kids breathe germs all over each other, then merrily tote the virus home, potentially to the elderly, the at-risk, and the immunocompromised — people perhaps unable to get vaccinated and at risk for severe COVID-19 infection.
And that study isn't a fluke. Ecowatch reports that a study out of South Korea found that older children — tweens and teens — "are more likely to spread the virus than young children or adults." They spread it to each other, then bring it home… maybe to all those vulnerable people who can't be vaccinated. Going mask-optional before children can be vaccinated will bring the virus into the community.
"All along in this pandemic, we have seen the tragic consequences when politics start to play a role in public health decisions. And to me, [going mask-optional] smells like politics — to ban the requirements that are ultimately there to save lives… The body of evidence shows that masks work," Dr. Sean O'Leary, a professor of pediatrics at the University of Colorado and vice chair of the Committee on Infectious Diseases for the American Academy of Pediatrics, told NPR.
Clearly, despite the CDC's confusing guidelines and chest-thumping Republican governors, it's not the time to go mask-optional. The pandemic isn't over. Stop hollering about freedom and cover your kids' faces.