What We Are Seeing––And Need To Learn From–– As Schools Reopen In Other Countries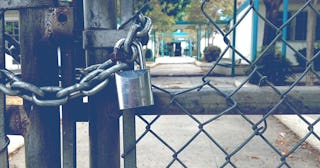 Scary Mommy and Joseph Ray/EyeEm
The switch from traditional school to distance learning happened almost overnight. One day schools in my area were open, and the next, they were closed—first for two weeks, then that closure was extended indefinitely, and finally, unsurprisingly, closed for the remainder of the school year.
Schools will, eventually, one day, open. But that opening likely will not happen overnight, and when it does happen, it should not be rushed. If what we're seeing with respect to school re-opening in other countries is any indication, it looks like the road back to classroom life for students will be slow, and probably bumpy, and most likely not as easy—and more importantly, guaranteed safe—as any of us want it to be.
Around the world, countries are grappling with the question of how to open schools while keeping students and teachers safe. The approaches to opening schools have been varied. Studying those approaches, and the success (or not) of those approaches, can provide both insight and an unofficial blueprint to help us prepare.
What Are Other Countries Doing?
In China, which was the first country to close schools to stop the spread of COVID-19, students are required to wear facemasks and social distancing measures are being strictly enforced. In one primary school, the headmaster asked children to wear specially designed social distance hats that prevent them from coming within one meter of each other to help them become accustomed to social distancing.
In Germany, states are developing their own roads to re-opening. Some states are requiring masks while others are not. Many are limiting class sizes and turning hallways into one-way paths. One town is giving students the option to get tested for coronavirus every four days—and those who test negative are free to move throughout the school without a mask.
In places like Sydney, Australia, Hong Kong, and Japan, schools are opening in phases, with student attendance staggered in the physical classroom.
How's It Working Out?
Well…it's hard to say, not only because everything about this virus is hard to say in absolutes, but also because it may be too soon to really know.
One week after a third of French children went back to school, 70 COVID-19 cases linked to schools emerged. The affected schools were immediately shut down, and while officials in France didn't say whether those affected were children or adults, they did say it was "likely" they were affected before school began. France's education minister noted that a spike in cases was "inevitable" but "told parents it was more of a risk keeping their children at home than sending them to school now the strict lockdown had ended."
A teacher in Israel who'd been in contact with 52 students and an untold number of staff members was diagnosed with COVID-19, forcing a two-week shut down of the school. In another Israeli school, an assistant tested positive for the novel coronavirus after having contact with seven children and a teacher. All were sent to quarantine, but it's unclear whether the school was shut down.
In Germany, the reproduction factor—the metric to measure how many people are infected by each newly infected person—which officials hope to keep below 1 crept up to 1.13. Though officials hope that was a blip.
Denmark, the first European country to slowly reopen schools for children nursery age through elementary, after a month-long closure has not seen a significant increase in positive COVID-19 cases. The schools have careful measures in place, including smaller than normal classes and cooperation with health officials and epidemiological experts, who provided detailed recommendations. Blaženka Divjak, the minister for education in Croatia, which holds the EU's rolling presidency, urged caution in analyzing the initial results because it may still be too early to know anything.
What's The Takeaway For The United States?
An approach that worked for one country will not necessarily work for another country. In fact, chances are, what worked for one country almost definitely will not work for another. But that doesn't mean we can't learn. From France, which has seen a small spike in cases likely due to infections that occurred before school began, we can learn that we may need to test students and staff before school starts. Israel's localized outbreaks have shown that we may need to be adaptable and quick on our feet—ready to identify cases, trace contacts, require quarantines, and in some cases, even close schools for two weeks at a time to prevent widespread infection.
It's probably unrealistic to hope our schools will be able to test students and faculty every four days, but the small German town in which that's possible proves just how important testing can be to allow kids to move in a way that feels back to normal.
And of course, social distancing. Denmark's limited class sizes, China's mask requirements, and other countries' staggered openings should all be considered.
The truth is that there's so much about this virus that we don't know that makes it hard to determine the right approach to opening schools—or determining whether opening schools is a good idea, at all. Studies in China have found that children may be less contagious than adults, potentially because they often don't have symptoms—like a cough—that would spread the disease. Other studies from Iceland and the Netherlands found no cases in which a child brought the virus into their home, putting into question how contagious children truly are to adults.
Then again, studies have shown that children get infected at about the same rate as adults. And, don't forget, opening schools for children also means opening schools for staff members who may be in the vulnerable population. And…this article hasn't even touch on that scary inflammatory illness affecting kids currently giving parents new reasons to stay up worrying.
Richard Pebody, team leader for high threat pathogens at the World Health Organization, gave this advice regarding school opening: "Do it very gradually and monitor the ongoing epidemiology very closely."
Basically, don't rush. Learn from the mistakes and successes of other countries. Open schools slowly and methodically, and with a whole lot of hand washing.
This article was originally published on