Schools Teaching 'Run Hide Fight' Tactics To Elementary Kids
by Julie Scagell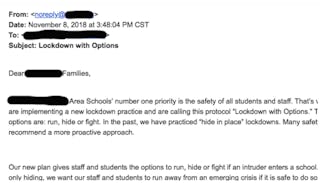 Image via Julie Scagell
This email is yet another example of just how far we've fallen
Schools have been practicing lockdown drills since the tragedies at Columbine and Sandy Hook Elementary collectively took the lives of 40 innocent children and school staff. As parents, these drills have become commonplace, which is horrific in its own right. But there's apparently a new (at least new to me from a school perspective) conversation happening which I was notified about this week from our elementary school principal: Run, Hide, Fight drills.
"We are implementing a new lockdown practice and are calling this protocol 'Lockdown with Options.' Those options are: run, hide or fight," the email said. "In the past, we have practiced 'hide in place' lockdowns. Many safety experts now recommend a more proactive approach." Lockdown with Options includes the basic instincts of self-defense, which makes sense as a concept. Applying that to children who are in Kindergarten through fifth grade is unconscionable.
Can we just take a moment to let this sink in? These are kids as young as five years of age being asked to decide in that moment if they should escape, hide, or attempt to fight a gunman. Now, I understand our schools aren't advising five year olds to ward off an intruder single handedly, I know this. But the premise of Run, Hide, Fight says, in part, just that — because it's meant for adults.
I know a lot of parents probably think whatever measures a school can put into place to give our kids a better chance of surviving a school shooting are a good thing. And with two mass shootings in the past three weeks taking so many more innocent lives, active shooter drills for all of us, our kids included, are not going away.
But these are our children. Kids who are still learning to tie their shoes and carry their own trays to their lunch tables. They should be worried about an upcoming math test, not about which option they should take in the event someone walks into their school and starts shooting.
My son is seven years old — I was meeting McGruff the Crime Dog at his age, talking about stranger danger. He's learning to help his teacher pile furniture against the door to keep a gunman from shooting his friends.
We have become numb as a society to just how far we've fallen that these types of scenarios are being taught to our kids every day. I don't fault the schools; administrators and teachers are all trying to find ways to keep our kids safe in an age where mass shootings fall out of our news cycle within days of happening. It's an impossibility for them to remain status quo, they don't have that luxury.
"This information has been developed not to be alarming or intentionally frightening, but we recognize the topic of a school intruder may be upsetting to some students," the email continued. My god, it should be upsetting to ALL students, parents, and anyone who cares about our future. Enough is enough. When are we going to stop talking about this and actually do something about gun control in this country?