Hero Science Teacher Tackles Suspect During Noblesville School Shooting
by Julie Scagell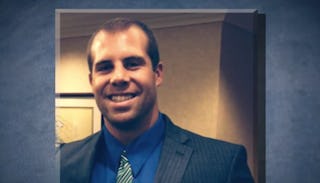 Image via YouTube/NBC News
A science teacher is credited with saving countless lives
As details unfold from the school shooting in Noblesville, Indiana yesterday, it's become clear that in the midst of the horror, a teacher may have been the one responsible for saving dozens of lives. It's equal parts quick-thinking and being in the right place at the right time that made all the difference.
Jason Seaman, a seventh-grade science teacher, football coach, and father of a toddler son and one-month-old daughter, was shot three times after police say a boy in his class asked to be excused and returned with two guns. Seaman and 13-year-old student Ella Whistler were hit before he disarmed and restrained the gunman until authorities arrived.
The gunman was arrested "extremely quickly" after the incident, which happened around 9 a.m. at Noblesville West Middle School, the Associated Press reports.
Seventh-grader Ethan Stonebraker, a student in Mr. Seaman's class, said the gunman was acting suspiciously when he walked back into class; the rest of the class was taking a test at the time he entered. Stonebraker also said his science teacher may have averted a disaster, saving countless lives in the process.
"Our science teacher immediately ran at him, swatted a gun out of his hand and tackled him to the ground," Stonebraker told the AP. "If it weren't for him, more of us would have been injured for sure."
A student in the classroom at the time of the shooting recounts via text message how it all went down. The student says Seaman "threw a basketball" at the suspect's forehead and "tackled him THROUGH the storage room door."
Another student, Jacob Long, said students in the school were crying in their classrooms while teachers took off their belts to secure their classroom doors. "He's a good coach and a good teacher, an all-around good guy," Long told the Indy Star of Seaman. Noblesville High School Freshman Molly Miles says that Seaman was following through on something he told his students he would always do in the event of a shooting. "I especially remember that he would throw himself on top of the shooter if he had to," she said, "which he proved today."
This most recent school shooting comes just one week after 10 innocent lives were lost at Santa Fe High School, and mere months after the senseless attack that killed 17 people in Parkland, Florida. This marks the 23rd school shooting in 2018 alone, and also, a year in which deaths from school shootings are officially higher than the deaths in our military.
Seaman released a statement to the Indy Star from the hospital where he's recovering saying, "First of all, thank you to the first responders from Noblesville and Fishers for their immediate action and care. I want to let everyone know that I was injured but am doing great. To all students, you are all wonderful and I thank you for your support. You are the reason I teach."
Whistler's family released a statement as well saying that their daughter is in stable condition. "We will spend the next days and weeks processing what happened and why. But first, we wanted to say she is doing well at Riley Hospital for Children," it reads.
Let's hope for the day when teachers don't have to be heroes taking bullets and 13-year-old girls don't have to be in stable condition recovering from gunshot wounds. We can do better. We need to do better.
This article was originally published on