Teacher Faces Charges After Feeding Puppy To Turtle In Front Of Class
by Thea Glassman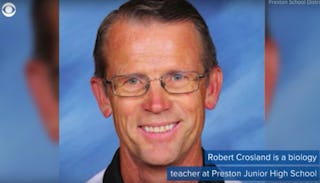 Image via CBS News/YouTube
The teacher fed the 'sick' puppy to a snapping turtle in front of students
Today in truly horrific news: an Idaho teacher fed a live puppy to a snapping turtle. As if that's not awful enough, he chose to do it in front of his students. Now, he's being charged with animal cruelty and faces some pretty serious consequences.
Preston Junior High School science teacher Robert Crosland was accused of feeding the puppy to the turtle as part of a classroom demonstration back in March. Animal rights activist Jill Parrish caught wind of his actions, and promptly filed a police report.
"What I have learned in the last four days is disgusting. It is sick. It is sick," Parrish told TV station KSTU. "Allowing children to watch an innocent baby puppy scream because it is being fed to an animal. That is violence. That is not OK."
The puppy was reportedly terminally ill — but Parrish said that that was not the "humane" way to end the animal's life. Meanwhile, it turns out that Crosland's snapping turtle was an invasive species and was later euthanized.
At the time, Preston Junior High School officials fought back against the accusation. "The event occurred well after students had been dismissed and was not a part of any school-directed program," the school said in a statement. "We emphasize that at no time was the safety of students or staff compromised."
Right…but what about the safety of the sick puppy? And also isn't that a ridiculously violent visual for kids to be seeing?
On Friday, Crosland was charged with misdemeanor animal cruelty. If convicted, he faces up to six months in jail and a $5,000 fine. This is big, big news for animal rights activists, who fought hard to get Crosland fired from his job. One petition garnered nearly 190,000 signatures and a whole lot of angry comments.
"Even if the puppy was so sick it was eventually going to die, Crosland should not have fed it to a snapping turtle, especially while still alive," the petition's statement read. "…Do we really want teachers killing living animals in front of impressionable junior high students?"
This article was originally published on