There's A New Scooby Doo Film In The Works And The Cast Is Amazing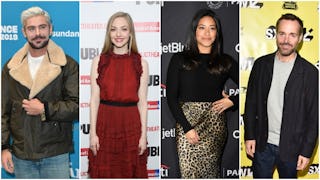 Image via Getty/Tim Mosenfelder/Jon Kopaloff/ Dimitrios Kambouris/ Neilson Barnard
Jeepers, we can't wait to watch Scoob
Zoinks, Scooby-Doo fans — a new movie with all the beloved characters is coming to theatres next year and we couldn't be more excited. If that's not enough to get your ascot in a bunch, Zac Efron and Amanda Seyfried are coming on board to voice two of its main characters.
The animated Warner Bros film, aptly titled Scoobs, will feature Efron as Fred and Seyfried as Daphne, Deadline reports. What's more, the two actors will join Gina Rodriguez as Velma, Will Forte as Shaggy, and Tracy Morgan as Captain Caveman. Since you can't have the movie, Scoobs, without Scooby himself, he will be voiced by Frank Welker, the same man who has been "Scrappy Dappy Doo'ing" his way into our hearts since the 1969-1970 series Scooby-Doo, Where Are You!
The movie is slated to be released in May 2020, and it's the first Scooby-Doo film to hit theaters since 2004, when Freddie Prinze Jr. and Michelle Gellar starred in Scooby-Doo 2: Monsters Unleashed. The Scooby-Doo television series was a staple for most of us growing up, first airing as a Saturday morning cartoon in 1969.
In this installment, the Scoobs cast team up with other characters in the Hanna-Barbera universe to rescue the world from the evil Dick Dastardly (please Fred Flintstone, please make a cameo).
People are understandably pumped about the cast and possibility of seeing another Scooby-Doo on screen:
https://twitter.com/jetpack/status/1109247857192665089https://twitter.com/jetpack/status/1109220341153493000
We've been waiting 14 long years since the last time we've seen our favorite set of mystery solvers on screen. Can you imagine how many times Daphne has been kidnapped since then? She's about as unlucky as Kiefer Sutherland's daughter in 24. Lucky for Daphne, she's got the whole Mystery Inc. crew on the case (also, Mystery Inc needs to be back) so we're assuming she will be both kidnapped and returned by the end of the movie.
Seyfried has seen her share of the big screen in recent years, scoring big in her 2018 role in Mamma Mia sequel. You may remember she had to renegotiate her contract for the role when she found out her co-star, Dominic Cooper, was being offered the same amount for the film with much fewer scenes.
"I f*cking hit the roof," she told ELLE."I was like, 'No, dude. You can't do this anymore.' Because I'm not going to keep my mouth shut about this. God bless him, Dom is wonderful. But how is that fair?" Spoiler alert — it's not.
Efron's most recently been working on the Ted Bundy biopic Extremely Wicked, Shockingly Vile, which hit Sundance earlier this year. He'll also be on the big screen in the upcoming film The Beach Bum, which will hit theaters later this month. We appreciate this because if he's going to be in a movie, it's fun to actually see him in the movie — you feel me?
Here's hoping Scoobs is as good as the last reprisal. Regardless, we will be running, not walking, to the theatres to check it out.