37-Year-Old Scott Disick Is 'Dating' 19-Year-Old Amelia Hamlin And Just Ew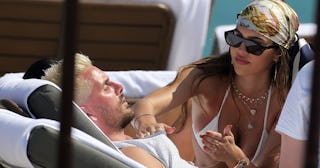 MEGA/Getty
Scott Disick's new girlfriend is only 8 years older than his 11-year-old son…cool, cool
Scott Disick, famous mostly for being Kourtney Kardashian's ex and the father of her three children, is also famous for dating girls who are barely over the age of 18 even though he's pushing 40. He announced his new girlfriend publicly for the first time over Valentine's Day weekend, and she's the 19-year-old daughter of Real Housewife Lisa Rinna and actor Harry Hamlin.
"Lord Disick" and Amelia Gray Hamlin made it official on the 'gram over the weekend, showing photos of the two out to dinner.
On Saturday, Disick posted two photos on his Instagram Story of himself and Hamlin, who have been together since October, according to PEOPLE. Disick, who is 37, has a history of dating teenagers. His last girlfriend of three years, Sofia Ritchie, is just 22 currently. She was 19 when they began dating, and he was 34 at the time.
Now, before anyone reading this gets all "They're consenting adults" about it, and many of you will, yes — they're both technically consenting adults. But imagine getting sexually involved with someone who just graduated high school last year when you're in your mid-to-late thirties. There's a power imbalance there, regardless of what the law says about the age of consent. Why does a 37-year-old man and father of three have to continuously date teenagers? A lot of people find it predatory.
Just because someone is above the legal age of consent doesn't mean dating them is appropriate when you're middle-aged. Particularly since Disick has a history of doing so — before Ritchie, he dated women who were 22, 20, and 18 all while he was well past 30. He was 18 when his current girlfriend, Hamlin, was born.
There is no deep meaning to someone turning 18 becoming an "adult." It's not based on psychological or scientific. It just means Disick won't get into legal trouble for having sex with his extremely young girlfriends.
Research actually shows that the adult brain isn't fully mature until around 25 years old. Neuroscientist Sandra Aamodt told NPR back in 2011 that many changes still occur in the developing brain between 18 and 25.
"The changes that happen between 18 and 25 are a continuation of the process that starts around puberty, and 18-year-olds are about halfway through that process," she said at the time. "Their prefrontal cortex is not yet fully developed. That's the part of the brain that helps you to inhibit impulses and to plan and organize your behavior to reach a goal."
Not all relationships with big age gaps are exploitative, of course. But the fact that cishet men are primarily the sex that pursues barely-legal relationships with young women is as frustrating as it is concerning. It's nothing new — particularly among famous, wealthy celebrities — but it's also impossible to deny the power imbalance and overall creepiness of habitually dating young women who still have a "-teen" at the end of their age.
It's gross AF and this particular middle-aged wannabe frat boy with Guy Fieri's hair needs to find healthier ways of coping with his toxic masculinity and insecurities about aging.
https://www.instagram.com/p/CLPBzKsjDYU/
For her part, Hamlin appeared to defend her relationship with Disick last fall in an Instagram Story where, according to Page Six, she wrote: "ppl r extra weird and judgemental these days.. people can embrace themselves however they feel fit for them at that moment in time. people grow. people learn to love themselves more and more."
People should grow. She's right. And here's hoping Scott Disick grows up and grows out of his predilection for partners under the age of 20.