Former FDA Chief Predicts 'Most' Unvaccinated Americans Will Get Delta Variant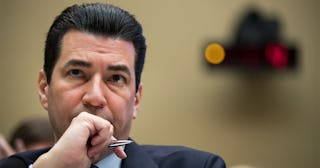 Drew Angerer/Getty
A former head of the FDA said the delta variant will be the "most serious" virus of many unvaccinated people's lives
The delta variant of COVID-19 continues to spread around the world. The variant, which was first identified in India and drove a massive surge of infections there, is far more contagious than previous versions of the coronavirus. Some research also indicates that it may make people sicker, especially young people who typically didn't get seriously ill from earlier forms of the virus. Now, public health officials are sounding the alarm about delta, which is spreading extremely rapidly in the U.S., despite widespread vaccine availability.
Dr. Scott Gottlieb, a former commissioner of the Food and Drug Administration who served under Trump before the pandemic began, appeared on CBS's Face the Nation on Sunday to issue some sobering warnings about delta.
"This virus is so contagious, this variant is so contagious … that most people will either get vaccinated or have been previously infected or they will get this delta variant," Gottlieb said. "And for most people who get this delta variant, it's going to be the most serious virus that they get in their lifetime in terms of the risk of putting them in the hospital."
Gottlieb also said he believes cases of the delta variant are underreported, since many people, especially those who have been vaccinated, are asymptomatic or have mild symptoms.
"We're not doing a lot of routine screening right now," he said. "Unless you work for the New York Yankees, you're not getting tested on a regular basis. So I think that this delta wave could be far more advanced than what we're detecting right now."
All 50 states in the nation are now seeing an increase in COVID cases, with the 7-day average for the nation climbing nearly 70 percent in just the last week. States with low vaccination rates, like Arkansas, Missouri, and Florida, are seeing the largest rates of increase. In fact, Florida alone accounted for 20 percent of all new cases in the entire nation last week. Centers for Disease Control and Prevention Director Rochelle Walensky has called the new surge in cases across the U.S. a "pandemic of the unvaccinated."
Amid increasing cases, some states and cities are reinstating virus restrictions that were previously lifted, like mask mandates. In his interview, Gottlieb said that's a good idea.
"Quality of mask is going to make a difference with a variant that spreads more aggressively like delta does, where people are more contagious and exude more virus," he said. "Trying to get N95 masks into the hands of vulnerable individuals in places where this is really epidemic I think is going to be important, even in cases where they're vaccinated, if they want to add another layer of protection."