Scratch-N-Sniff Rosé Exists Because Sometimes We Can Have Nice Things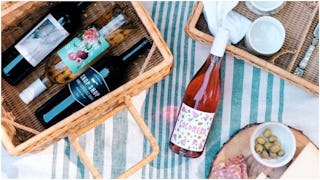 Image via Winc/Instagram
Scratch-n-sniff wine will probably (definitely) be your new favorite booze
Remember when you were a kid and scratch-n-sniff stickers were your jam? Well, it's 2018, we're all grown up, and it's time to get your adult scratch-n-sniff on. Spoiler alert: this new version involves wine and some juicy, juicy watermelons.
Here's the whole delightfully boozy deal. Winc has released a $15 rosé that comes with a scratch-n-sniff label, so you can get a whiff of the watermelon notes before you dive right in. "Just smelling the fragrant watermelon will make you want to pop open the bottle immediately!" the brand boasts. "Enjoy Italy's favorite summer flavors – watermelon and wine – in one delicious glass."
The wine is called "Cocomero," which literally translates to "watermelon" in Italian. I mean, you don't really have to tell me twice. Look how delicious it looks!
Are you already feeling a so, so much 90's childhood whimsy? All we need now are some furbies, Carson Daly, and maybe like one episode of Clarissa Explains It All.
In case you need any more convincing, the rosé also has tasting notes of rhubarb and honeysuckle. There's 12.5% alcohol content and it pairs nicely with shellfish, sushi, and fruits. It's also light, dry, eco-friendly, and will look very nice in a picnic box.
If you're in the market for some more ultra-pink drinks, there's plenty to choose from. Please meet your new bottle-shaped best friends below.
While none of them have the fun scratch-n-sniff label, they do have some other advantages. Like, this Summer Water Rosé, which has notes of grapefruit, strawberry, and white peach. It also looks damn good at the beach.
There's also the Funk Zone Rosé, which is plenty funky with citrus, rose petal, strawberry, and watermelon. It's also best paired with pasta covered in cream sauce, which is pretty much all you could ever ask for.
Here's to your booziest, pinkest, most nostalgic summer yet. Watching 90's TV reruns with the family whilst sipping is mandatory.
This article was originally published on