6-Year-Old Becomes Youngest National Spelling Bee Contestant, Ever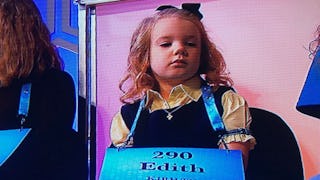 Image via Twitter/Brian Daroch
Edith Fuller makes us all wonder what we're doing with our lives
The 2017 Scripps National Spelling Bee is underway this week, marking its 90th competition. The event is the culmination of all of the hard work and effort of some of the brightest kids in America and a chance to make all adults watching it feel completely inferior. More than 11 million students participate in the Bee each year, with just 291 kids making it to the 2017 stage. The ages of this year's participants range in age from six to 15.
Yes, you read that right; one of the contestants is six — and she qualified when she was five.
Edith Fuller, from Tulsa, Oklahoma, is the youngest-ever Bee competitor. "Edith Fuller is the youngest speller to ever make it to the Scripps National Spelling Bee. And so far, she's having fun," the UPI reported. "Edith competed in her first spelling bees this year, she said, and was surprised to keep winning. But she did. And she loves to spell. She's speller 290 of 291, so she has a long wait before she gets to the microphone."
According to ABC News, Edith also "plays piano and sings in her church's children's choir," in her spare time, in addition to securing her school's firewall and knowing exactly how much that doggie is in the window. Fine, we made that last part up.
I mean, just look at this face. It says, "I got this, folks. Now get me my apple juice and my PB&J."
"I said no crust, people. Do I have to do everything around here?"
Some of the words on this year's list include prestidigitation, Phrenology (which is obviously a pseudomedicine primarily focused on measurements of the human skull, based on the concept that the brain is the organ of the mind), and pterodactyl. Whenever I hear the word pterodactyl it reminds me of a joke my son told me years ago: Why can't you hear a pterodactyl going to the bathroom? Because their "P" is silent.
Listen, if I've had to suffer with that joke taking up space in my brain all these years, so should you.
Twitter is getting in on the Spelling Bee fun already:
All 291 participants will receive a Kindle Paperwhite and a one-year subscription to Merriam-Webster, though we think they may be too young to fully appreciate the Merriam-Webster Twitter trolling skills in all its glory. The champion of the Bee will win a $40,000 in cash in addition to other prizes, rounding out our jealousy trifecta.
If you don't feel dumb enough already, Scripps has a handy dandy test you can take you can take to see if you have what it takes to make it to their National stage (spoiler alert – we don't).
If you want to catch the finals, tune in to ESPN3 on Thursday at 8:30pm EST to cheer Edith on.