Praise Be! The Handmaid's Tale Finally Has A Return Date
by Christina Marfice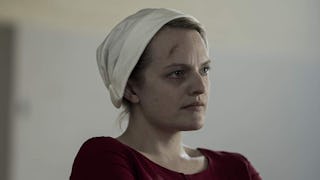 Image via George Kraychyk - © 2018 Hulu / IMDB
How are we going to make it til June to find out what happens on The Handmaid's Tale?
So the last episode of The Handmaid's Tale left us with a lot of questions. Namely, what's going on with June? Why did she abandon her plans to escape Gilead? Is she ever going to be able to rescue Hannah? Will the Waterfords return, and will Serena Joy actually forgive Fred and stay with him? And our most pressing question of all: When will we have answers to all these questions?
Absent any major spoilers for Season 3, we can finally answer one of them. Hulu will premiere the next season of The Handmaid's Tale in (wait for it) June. Because of course it's happening in June.
The release date for the first three episodes of Season 3 is June 5, to be exact. After that, a new episode will reportedly be released every Wednesday, according to Deadline.
That's later than the previously announced release date, which was in April, and fans are noticing. Some of them took to Facebook to vent their frustration at having to wait a few more months to see more of the show, and hoo boy, do I know that feel.
Unfortunately, fans' desires for 20 episodes this season probably won't come true. Season 3 is reported to be 13 episodes just like Season 2 was. Also, the premiere date is a full year after the finale of the last season, so fans are right to feel like they've been waiting forever.
Luckily, it sounds like there's a good reason for the wait.
"We wanted to give the show as much time as possible to maintain the quality," Hulu exec Craig Erwich said at the Television Critics Association press tour this week. He added that he's only seen the first two episodes of the upcoming season so far, but he called them "spectacular."
If there was any doubt that Hulu really is focused on creating the best possible season of the show, it's that the later release date knocks it out of the running for the Primetime Emmy Awards in 2019. The soonest the show could qualify for another Emmy is in 2020, and giving up on the potential to win another bucket of awards is a pretty big deal. The Handmaid's Tale has had previous wins for Best Drama Series, Best Writing, Best Supporting Actress, Best Lead Actress and others.
A teaser trailer for the upcoming season was premiered during the Super Bowl, and boy does it look like some dark days are ahead for Gilead. I mean, considering the overall tone of the show, that's not exactly surprising. But anyone who's pulling for an easier ride for June and Co. is going to be disappointed by the upcoming season.
Also, the trailer brilliantly echoed the iconic "It's Morning in America" ad from Ronald Reagan's 1984 presidential campaign. So clearly Season 3 won't be backing off the modern-day political parallels, either.
We didn't really need anything to make winter feel like it's any longer than it already is. But there's officially light at the end of the tunnel. Spring is coming, and so are new episodes of The Handmaid's Tale.
This article was originally published on