An Extended Trailer For 'Handmaid's Tale' Was Just Released And OMG
by Cassandra Stone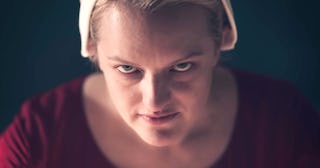 Hulu via Youtube
Will June finally get out of Gilead? Not before lighting it on fire first, it seems
Get ready, because a new trailer for season three of The Handmaid's Tale was just released and it looks like it's going to be non-stop action in the fight against the powers-that-be in Gilead. The resistance isn't coming; it's here. Full-force. And Offred/June is at the center of it all.
"If I'm going to change things, I'm going to need allies," June says in the voice-over for the brand-new season three extended trailer. Does she mean Serena Waterford, the Commander's wife? Aunt Lydia? Yes, and yes. Because if you want to get things done, you've got to make friends (or, at the very least, frenemies) with people in high places. And these women are about as high as you can get in Gilead.
The season two finale left us with a lot of questions. Namely, why would June remain in Gilead instead of escaping to Canada with Emily and her baby? What are her plans? Is she ever going to be able to rescue Hannah (dear Lord, let's hope so, it's so hard to continue knowing she's out there). Will Serena Joy forgive her husband and remain with him? What's going on with Nick?
The trailer, while intentionally ambiguous, does give us a glimpse into some of those answers. One, it looks like June's friend Emily (Alexis Bledel) did escape with June and Nick's baby — and perhaps meets up with Luke, who is shown holding a baby while June watches, overcome with emotion, on a tablet screen.
Two, it appears Serena Joy and Fred are still married, or at least united enough for him to bring her into an All Men In Dark Suits top-secret business meeting. As June said, she has "influence." When Serena responds that she only has it "up to a point," June isn't having it: "So move the point." Does this mean Serena's going to lose another finger? Because we all remember what went down the last time she tried to stand up to the men of Gilead. Yikes.
It also looks like Aunt Lydia survived being stabbed and falling down the stairs, because she's just as brooding and terrifying in season three as she always is. After bizarrely coming to Emily and June's rescue last season, Commander Lawrence (Bradley Whitford) meets up with June and seems to want to aid her in the resistance. Or perhaps he wants to use her powers of influence for his own gain?
The trailer also shows June reuniting with Nick, and some subtle hand-grazing. There are some quick scenes of the Waterford living room on fire, and one of June kneeling by her eldest daughter Hannah's bed while she sleeps (remember the disaster her previous Hannah visits turned into? Here's hoping something good happens with these two this season, but we won't hold our breath).
"At least there's still hope if I'm here," June says in the final voiceover. "Now, Mom's got work." Season three of The Handmaid's Tale premieres on Wednesday, June 5th.