17 Of The Season's Hottest Toys, According To Kids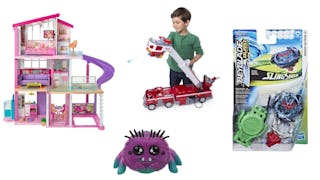 Walmart
If you are anything like us, you just realized that Christmas is rapidly approaching and you're not exactly ready. Or maybe you were totally on top of things this year, shopped early, and just finished wrapping the last gift, only to have your kid changed their mind.
Well, don't worry, we've got you covered with the top rated toys, according to kids. That's right, this is a list of toys that kids say are cool. Just point and click, and voila!, your holiday shopping is done!
These little critters hatch from an egg and demand your child take care of them in order to keep them happy. It's sorta like karma.
This looks like something that will keep them busy for hours. *adds to basket*
Are there flying toys that aren't cool? No, there aren't.
Paw Patrol and a fire truck?! Bet Santa will be making A LOT of these bad boys this season.
It comes with all the accessories! ALL.THE. ACCESSORIES.
YouTube. Eggs. Unwrapping. Need we say more?
Ok, these are cool. We kinda want these for ourselves.
Turn your house into a laser tag pit! I mean, who doesn't want that?
We have no idea what this is, but it's fluffy and colorful, and our daughters tell us they HAVE TO HAVE ONE!
Oh fun, a bracelet that looks like it's alive and chatters at you. Not creepy at all.
Now this is what we're talking about! A puppy that won't pee on the rug. Bring it.
Again, you can't go wrong with a flying toy. Flying toys are cool.
Traditional slingshot are bad, but the kids seem to love these and they can't destroy your house, so win/win.
Kids love everything that has to do with surprises and mystery, so these, of course, are all the rage.
It runs, and if you scream it runs faster. YIKES.
This is a Spiderman toy, no further explanation needed.
Mini trucks and a mini case to haul them in. This is legit a truck-loving kid's dream.
There you have it. Drop a few of these hot toys in your online cart, ship it to your front door, wrap it. You're welcome.
We are a participant in the Walmart.com Affiliate Program and may earn fees by linking to Walmart.com and affiliated sites.
This article was originally published on