Little Girl Thinks Bride Is A Princess From Her Favorite Book, Cuteness Ensues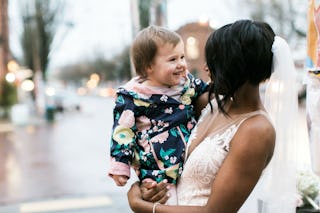 Image via Stephanie Cristalli Photography
Photos of a little girl in Seattle mistaking a bride for a princess are absolutely precious
Turns out modern day fairy tales do exist. We're not talking about a bride finally finding her prince, that story has been told. We're talking about a little girl meeting her beautiful princess on the streets of Seattle.
The adorable young girl, 2 years old at the time, was walking by a wedding photoshoot in the Ballard neighborhood with her mom when she spotted a bride she couldn't take her eyes off of.
"Imagine meeting one of your idols on the street. It was like that," Kelsey Edwards, the mom of the little girl, tells Scary Mommy.
"The little girl thought my beautiful wife was the princess from her favorite book (the one she's holding)," Scott Robertson, the groom, writes in his Imgur post. (We'll explain the toddler's "favorite" chapter book in a moment).
The couple had just finished their church ceremony. As the photographer snapped away on the street full of restaurants and little shops, they noticed the smitten little girl. She was swooning over the lovely bride in a very gorgeous gown.
"The little girl was staring, it was so cute, so we all stopped to acknowledge her," Stephanie Cristalli, the photographer for the wedding, tells Scary Mommy. "It was just one of those moments that was so adorable and unfolded right in front of us, and I was just happy to have a camera."
Shandace Robertson, looking radiant and seemingly not minding the attention of a little human at all, seized the moment too. The result was not only photography gold, it was incredibly heart warming.
"I stopped to talk to them because I always get excited when I see little kids and babies; I just want to hug them! Kindness is important to me, even when talking to our smallest humans," Shandace Robertson tells Scary Mommy.
Edwards says, "It was just very sweet to watch her see the princess that Shandace had become in her eyes."
At one point, Shandace even plucked a flower from her bouquet to give to the little girl. Which as you can see, filled her with more smiles.
"She didn't know it, but I was as excited to be talking to her as she was to be talking to me! Her face perfectly expresses how we both felt, overjoyed!" Shandace says, "Spending time with kids has always brought me so much joy and I was thrilled to give that joy back to this little girl."
Beyond giving joy, we think Shandace gave the mom something else very valuable.
"Her mom even joked saying 'You saved me a trip to Disney.'"
The experience was more than some cliché fairy tale, or fleeting meet and greet it was truly memorable. "I appreciated Shandace and Scott for taking the time from their wedding photos and connecting with my daughter. They certainly didn't need to, but it gave my daughter such a lovely moment and it is something that I will always remember," Edwards says.
Quick tidbit about the book, because let's be honest, it's not every day you see a toddler carrying around a chapter book. The book is "Woman in White," a great mystery novel by Wilkie Collins. The little girl's mom says her daughter had taken it off their shelf and thought that the lady on the cover was a princess. "When she saw Shandace in her gorgeous white dress, she was entranced and knew that she was a princess, just like the lady on the book."
The photos are lovely and making hearts fuzzy far and wide. So what is it about the images that are making so many people connect?
"I think people are connecting to their inner child through these photos and are excited to see the joy on her face," Shandace says. "I think it captures something that everyone on the planet has felt; the wonderment and the magic that happens when you meet your favorite celebrity, athlete, or Disney character at their theme park."
Edwards thinks a lot of people are adoring the photos because they're showing something we're missing a lot of lately, especially when it comes to people we consider strangers in our community.
"I think it's a moment between strangers that, instead of being full of anger or hate or violence, is full of pure love, awe and admiration. We aren't seeing many of those moments right now," Edwards says. "Perhaps these pictures are a reminder that we could all be and do better. Especially when it comes to our children. We owe them a better world."
That small gesture of human interaction and engagement is what makes the world go round. It's also moments like these that we remember the most in our own lives.
Shandace says, "For me it was important to take a moment and pause from the wedding festivities to make a connection with this little girl. That two minute pause turned into the best part of my wedding day."