22 Things To Expect With Your Second Baby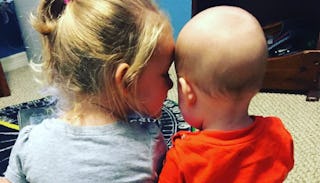 Shira Nelson
A year ago, I had one kid. She was my world. There is nothing greater than being a mommy for the first time.
No matter how prepared I thought I was, I knew nothing.
I remember wondering how in the hell I was supposed to do this thing called motherhood. How do I make this baby stop crying? How do I get her to sleep? How I do I take care of myself while being covered in spit-up and dirty diapers?
The weeks before I gave birth to my second baby, I sat and cried because I feared I would never love another human as much as I loved my daughter.
I was nervous. I was about to enter the "black hole" of newborn again.
What would life be like? How was I going to manage a 2-year-old and a newborn? In a way, I was more confident because I thought I knew what I was doing. But as kids do, my world was once again rocked — in a good way.
Here are 22 things I learned from my second baby:
1. You are stronger than you think.
Carrying a baby in a car seat with a toddler on your hip is guaranteed to make you feel more badass than ever.
2. What worked with your first may not work with your second baby.
So even though you feel more confident going in, you will have to second-guess yourself 100 times because, as usual, what worked with the first is just not working now. In other words, follow the baby's lead.
3. A crying baby is not the end of the world.
When you are on the dirty floor in the public bathroom with your toddler and the baby starts to cry because he is hungry, it's OK to allow him to cry. I mean, just get the toddler out of the damn bathroom because they are touching everything.
4. It really doesn't matter what color washcloths and towels the baby has.
Pink, blue, green. Just use what you have.
5. Feeling tired reaches a whole new level.
Your body will continue to amaze you with how much it can accomplish on very little sleep.
6. When the baby starts to sleep, the toddler will wake up.
Every time. And at that moment, you will do anything for sleep. Suddenly, you will find yourself welcoming any and all tips to get everyone sleeping.
7. Nap schedules are essential.
Your goal is to get both kids sleeping at the same time every day.
8. You spent an entire year worrying about your first child not getting as much attention.
But they are fine. They adjust. They learn the new normal, but it is important to give them quality time alone with you.
9. A newborn baby is not as delicate as you thought.
Toddlers have zero understanding of the word "gentle" when it comes to the baby.
10. You will spend money on a nice carrier.
Then you will start to wonder how people survive without wearing their babies.
11. Your toddler will act in ways you never thought possible.
You will likely be shocked and feel like you are raising a caged animal. Suddenly the baby seems really easy.
12. It gets better — every day.
You get better, and they get better. But you may never be on time again, so just accept it.
13. The laughs and smiles between your two kids make it all worth it.
It's a feeling you cannot describe.
14. Baby toys are overrated.
Seriously, you don't need more or new toys for the baby.
15. You can't do it all.
Ask for and accept help.
16. One kid seems like a dream.
No matter what the demeanor of your second baby, you start to laugh that you ever complained about one kid.
17. Double strollers are a dream come true.
On the days you are losing it, throwing both kids in the stroller and going for a walk makes everyone happy. It quickly becomes a free therapy session.
18. Meal times are a shitshow.
Just accept that anything "normal" is out the window.
19. If you were never a "yeller" you are now.
You will lose your shit, and it's OK.
20. Time goes much faster with the second.
And it's OK if you don't take the cute monthly milestone pictures.
21. Taking care of yourself is even more important.
You have less time now. But in order to remain sane, you must take care of yourself.
22. You absolutely DO have enough room in your heart for two kids.
This first year has been full of emotions. It has been nothing like I thought, yet so much more than I could have ever imagined.
This article was originally published on