This Guy Secretly Proposed To His Girlfriend For Five Months, And She Had No Idea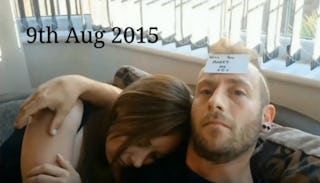 Man's secret selfie proposal goes on for five months.
Proposals don't need to be complicated. Diamonds and hot air balloons aren't really necessary when a simple "Want to get married?" uttered across the breakfast table will get the job done just as well. But there's something to be said for a big romantic gesture, and few proposals are as big, long-running, or romantic as the one Ray Smith popped on his girlfriend over Christmas, because he actually started secretly proposing five months ago, and his girlfriend had no idea.
Smith said he originally wanted to propose to his girlfriend, teacher Claire Bramley, in a hot air balloon, but then in June they learned that she was pregnant, so he scratched the balloon ride and started looking for another idea. Finally, he started secretly taking photos of her with little stickers saying, "Will you marry me?" hidden in them.
"But then in June we received some great news that Claire was expecting a baby, which put a stop to that plan. So I had to have a rethink," Smith told The Daily Mail. "I searched online for unusual proposals and I saw ideas like flash mobs and that sort of thing. So I decided to come up with my own idea to take a picture every day for five months."
She smiled for the photos, and she had no idea what was hiding in them.
"I had no clue, I was totally oblivious to it all," Bramley said. "He told me he was taking the pictures to create memories for the baby so I just let him get on with it."
Smith started taking the secret proposal selfies on July 31, and overall he wound up secretly proposing to Bramley 150 times. Sometimes he'd take a photo twice, once without the card in it, just in case she asked to see a picture.
Smith got pretty creative in his photos. In some of them, Bramley is smiling directly at the camera, not noticing that a "Will you marry me?" card is stuck to the curtain behind her. Sometimes Smith is holding the card up behind her head. On November 30, he took one of her while she was asleep, and little cards that say "Will you marry me" are scattered all over her.
Finally, after secretly proposing behind her back for five months, Smith actually asked Bramley to marry him on Christmas Eve, and she said yes right away. She was stunned when she saw the evidence of all the proposals that had occurred behind her head or while she was sleeping for the previous five months, though.
It's pretty cute and clearly took a whole lot of work. And despite a few close calls, Smith got lucky and never got caught.
"It was really stressful putting it all together, it took a lot of hard work. She nearly caught me a couple of times but I just had to pray it worked," he said.
The whole video of the proposal–all 150 photos–is here:
The long-running proposal might be a bit unconventional and over-the-top, but that seems to just be how Smith does things. And they'll always have these photos to look back on when they're old, and that's priceless.