Secret Service Agent Opens Up About Racist Abuse Michelle Obama Experienced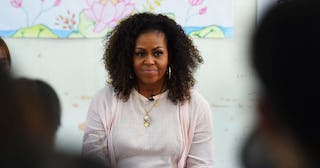 NHAC NGUYEN/Getty
Secret Service veteran Evy Poumpouras noted the former first lady "had to withstand certain kinds of disparagement that none of her predecessors ever faced"
One of the Secret Service agents on Michelle Obama's detail when she was the first lady explains Mrs. Obama was the target of "shockingly racist" acts during her husband's two terms in the White House, noting in a new memoir that people could "say whatever they wanted [to her] so long as there was no imminent threat of harm."
Becoming Bulletproof, penned by 12-year Secret Service veteran Evy Poumpouras, describes her life as an agent in the presidential protective unit for Presidents George W. Bush, Bill Clinton, George H.W. Bush, and Barack Obama.
Also described in the book is how the former first lady was subjected to brutal treatment at times when going out in public.
"As the first Black First Lady of the United States, Mrs. Obama had to withstand certain kinds of disparagement that none of her predecessors ever faced," Poumpouras writes in an excerpt released by Insider this week. "I was on her protective detail when we were driving to a school to deliver a speech; we passed someone on a bridge holding up a shockingly racist sign directed at her."
Poumpouras continues in the book: "I remember feeling outraged — after all, it was part of our job to protect the first family mentally as well as physically. But if the First Lady saw the sign, she gave no indication of it."
In an interview with Insider, the former agent admitted that she "could do nothing" when it came to protecting the Obamas from hate speech. Poumpouras said the only way she would be permitted to step in would be if she believed the first lady or president was in danger of physical harm.
"When it came to speech, they could call them names," she said. "They could say whatever they wanted so long as there was no imminent threat of harm." Poumpouras told the outlet that those who organized events including the first lady were typically the only ones who could have hecklers removed.
"I could not step in and say, 'Hey, don't say that,'" she told Insider. "But the staff could say, 'We don't accept that type of language here. This is our private property. Please leave.' Only then could someone do something, but as painful as it was, I had to abide by the law."
The former first lady was once asked about which "falling glass shards" cut the deepest after she broke the glass ceiling when she became the first Black first lady, The Denver Post reported.
"The shards that cut me deepest were the ones that intended to cut," Michelle answered, remembering how she was compared to an ape, according to the media outlet. "Knowing that after eight years of working really hard for this country, there are still people who won't see me for what I am because of my skin color."
Additionally, in a recent interview with CBS This Morning's Gayle King, Michelle talked about her hopes for her daughters, Sasha and Malia.
"I am excited, but I'd like to be more excited — to know that as she goes out and gets her first apartment and rides the subway somewhere, that they don't make assumptions about her based on the color of her skin," Obama told King. "That she's not at risk, out there in the world as an adult, because she's a Black woman."
In an episode of her podcast over the summer, Michelle detailed the racism she faced in the White House, calling it "exhausting." To hear Mrs. Obama tell her story, in her own words, You can listen to the full episode of The Michelle Obama Podcast here.