Selena Gomes Reveals Her BFF Gave Her A Kidney — Literally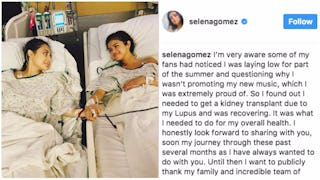 Image via Instagram
Gomez received a kidney from BFF Francia Raisa
Actress and singer Selena Gomez revealed on Instagram this morning that she recently underwent a kidney transplant, and that wasn't the only surprising admission. The 25-year-old star revealed that her kidney donor was none other than good friend, actress Francia Raisa.
Gomez shared the news on her Instagram page in an effort to clue in fans who were wondering why she wasn't promoting her new music this summer.
"So I found out I needed to get a kidney transplant due to my Lupus and was recovering," Gomez shares. "It was what I needed to do for my overall health." She also expresses gratitude for Raisa in her post.
She shared a sweet picture of the two at the hospital, thanking Raisa for all she had done for her. "There aren't words to describe how I can possibly thank my beautiful friend Francia Raisa," Gomez writes. "She gave me the ultimate gift and sacrifice by donating her kidney to me. I am incredibly blessed."
Gomez and Raisa have been friends since they were just 15 years old. Raisa told Latina that when Disney and ABC held an event at a local Children's Hospital, she and Gomez met and got along right away. "Selena and I were in the same group and we just clicked," she said.
Gomez wraps up her message to Raisa saying, "I love you so much sis." For Raisa to give something of this magnitude definitely places her on a level with family, and it's sweet to see Gomez recognize her publicly for it.
And the sisterly love is mutual. In a recent post to her own Instagram, Raisa calls Gomez "my sister, my forever friend."
Gomez has taken time off tours and press events in the past and has not shied away from her ongoing battle with lupus, telling People last year she "discovered that anxiety, panic attacks and depression can be side effects of lupus, which can present their own challenges." She also underwent chemotherapy to try to treat some of symptoms of lupus in 2013 while on the Stars Dance tour.
The singer shared a photo of the scar from her surgery in the same Instagram post and promised fans that she'll eventually share more details about her health, "as I have always wanted to do with you."
She says, "Lupus continues to be very misunderstood but progress is being made." Fortunately, Gomez has the support of family and friends like Raisa as she continues to navigate the illness.
This article was originally published on