Selena Gomez's New Song Lyrics Sound Like A Goodbye To Justin Bieber
by Valerie Williams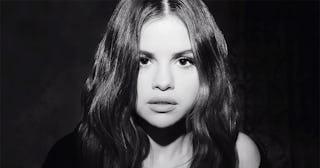 Selena Gomez/Youtube
Selena Gomez drops new single that gives a glimpse into her breakup with Justin Bieber
At midnight last night (today?), Selena Gomez dropped her new single "Lose You To Love Me" and already, the internet is full of (very likely true) speculation that the tune is all about her extremely famous ex Justin Bieber. Check out the lyrics and judge for yourself, but the evidence is pretty strong y'all.
You promised the world
And I fell for it I put you first and you adored it Set fires to my forest And you let it burn
HOO boy. Gomez is putting it all out there over a year after she and Bieber finally ended their lengthy on-again off-again relationship for good. Barely two months later, he was dating and then swiftly engaged to now-wife Hailey Baldwin. That whirlwind of heartbreak and her ex moving on so fast would be hard to deal with even as a non-famous person — but seeing it all play out in the press was clearly hurtful to her.
Even though they're full of heartbreak, the song's lyrics also sound like a reflection on Gomez becoming herself again after the breakup. She wrote on Vevo, "This song was inspired by many things that have happened in my life since releasing my last album," she said. "I want people to feel hope and to know you will come out the other side stronger and a better version of yourself."
Of course, the song doesn't come right out and name Bieber — and Gomez has never said anything directly about him or his new marriage to Baldwin. That's why it seems people are definitely reading meaning into her new song's lyrics — it's the first clues about her love life since around 2017 when she was still dating Bieber.
And the clues are some very heavy stuff. It's evident she was feeling hurt by the way Bieber treated her.
Sang off-key in my chorus
'Cause it wasn't yours. I saw the signs and I ignored it Rose-colored glasses all distorted Set fire to my purpose And I let it burn You got off on the hurting when it wasn't yours
Bieber himself admitted in a recent Instagram post that he's mistreated all of his past loves. He confessed to heavy drug use and admits he "abused all of my relationships."
For Gomez's part, her lyrics seem to suggest she's moving on from the heartbreak, even though it was a lot to take. She even specifically mentions how swiftly Bieber moved on before saying she "need to lose you to love me."
I gave my all and they all know it
You turned me down, and now it's showing In two months you replaced us Like it was easy Made me think I deserved it And to think of healing
I needed to hate you to love me (Yeah)
To love, love me To love, love me To love me I needed to lose you to love me
Hours before her new song dropped, she posted about her faith helping her through the difficult times.
Heartbreak is never easy to endure, even out of the giant spotlight Gomez is in. Here's hoping her music can continue to help her heal and live the full and happy life she deserves.
This article was originally published on