Selena Gomez Suffered A Panic Attack Before Her AMAs Performance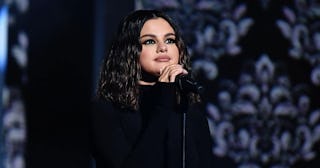 Emma McIntyre/AMA2019/Getty
Gomez suffered 'anxiety and a panic attack' before going on stage
If you missed the American Music Awards on Sunday night, it was a show filled with many memorable performances, especially from powerhouse women. Selena Gomez was one of the female performers at the beginning of the broadcast, and afterward, many viewers critiqued her voice. It turns out, before she went on stage, she suffered from a panic attack.
The 27-year-old sang two of her new songs, "Lose You to Love Me" and "Look at Her Now" and received less than positive feedback from many viewers for singing off-key, even joking that the song's lyrics literally say "sang off-key in my chorus" was about her. But what no one knew is that the singer/songwriter had a panic attack and severe anxiety before she performed.
According to an E! News source, her struggles during the song came from a place of anxiety. "Selena definitely had anxiety and a panic attack before she went out and was putting a lot of pressure on herself," the source said. Her AMAs performance was her first live one in two years — the last was at the American Music Awards in 2017. Being back in the spotlight can be intimidating, especially considering that her songs were very personal to her.
While talking about the song and her fans during an interview with Ryan Seacrest in October, Gomez shared that her motivation for writing "Look At Her Now" was her fans. "They've stood by me for years and years and they've walked with me through everything I've gone through. I just wanted to let them know I was good." Her hit "Lose You To Love Me" was reportedly written about her longtime boyfriend, Justin Bieber.
Bieber himself admitted in a recent Instagram post that he's mistreated all of his past loves, confessing to heavy drug use and admits he "abused all of my relationships."
Gomez lives with the autoimmune disease Lupus, which causes inflammation to the joints, skin and other organs, and in 2017, she underwent a kidney transplant due to the damage caused to her kidney. The kidney was gifted to her by good friend, actress Francia Raisa. To say she's had a challenging past few years is an understatement.
After her performance, she was seen looking much more relaxed in the audience, dancing to her pal Taylor Swift's performance. After the show, Gomez also posted on Instagram, sharing pictures of her Versace red-carpet look and thanking her fans for all of their love and support.
"Feels good to be back. Thank you to my entire team and to my fans that stand by me," she captioned the post. "All of this is for you and because of you. excited for this chapter #sg2 @amas."
This article was originally published on