The First Trailer For Netflix's 'Selena' Series Is Here
by Cassandra Stone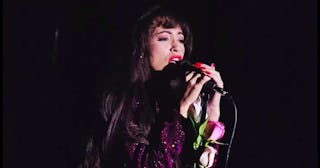 Netflix
Bidi Bidi Bom Bom! The new 'Selena' trailer has the details down to perfection
The 1997 film version of Selena is a fan favorite for a million reasons — J. Lo, sequins, bustiers, amazing music, and tons quotable lines. The new trailer for Netflix's series of the same name gives fans everything we could possibly want, by the looks of it.
Netflix unveiled the first look at Selena, the series featuring The Walking Dead's Christian Serratos as Selena Quintanilla Perez. The six-episode series follows the Latin singer's rise to fame and fan devotion. The video of Serratos shows her in full Selena garb, reading script pages and then strolling on stage to perform as the iconic singer.
"Selena is an inspirational figure who's transcended generations. At Campanario, we've always known it was crucial for this series to find actors with the right mix of talent, charisma, and passion to honor Selena's legacy and the story of her family," said Jaime Dávila, president and co-founder of the production company for the show, Campanario Entertainment, in a statement. "Our casting director Carla Hool and her team have found an amazing cast to depict the Quintanilla family, and we're sure fans everywhere will be captivated yet again by Selena's incredible life."
Selena Quintanilla Perez was one of the biggest pop stars ever — she was lauded for her talent, her gorgeous looks, as well as her ability to successfully engage fans of Tejano music all over the world. She was murdered at the height of her career, and there's not a soul alive who hasn't wondered "what could've been" when it comes to her legacy, which remains strong more than 20 years after her death.
When Netflix first announced the creation of the series earlier this year, they shared that the show is being developed and produced alongside members of the Quintanilla family. "Selena will always have a lasting place in music history and we feel great responsibility to do justice to her memory," Suzette Quintanilla, Selena's sister, said at the time.
While J.Lo did an amazing job portraying the famous singer — and launched a fabulous career for herself as a result of her talent and hard work — it'll be fascinating to see Selena's life told once more with the help of her family, through a docu-drama narrative.
According to Netflix, the series will be a "coming-of-age story" that follows Selena's life and career, as well as her family life. It's currently being marketed as a two-part limited series. While no official release date has been set, the much-anticipated show is likely to hit Netflix sometime in 2020.
This article was originally published on