Flight Attendant Detained By ICE For 6 Weeks After Flying To Mexico For Work
by Thea Glassman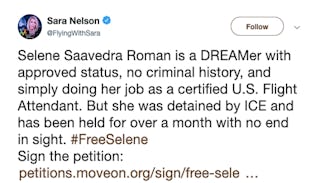 Image via Twitter/Sara Nelson
Selene Saavedra Roman, a DACA recipient, was taken into custody after flying out of the country for work
In February, flight attendant Selena Saavedra Roman boarded a plane to Mexico for work. The 28-year-old is a recipient of Deferred Action for Childhood Arrivals (DACA) and therefore unable to travel outside of the country. However, her employer Mesa Airlines told her that she was safe to fly to and from Mexico and scheduled her for the flight.
Roman was later apprehended at the airport and sent to an ICE detention center for six weeks.
The flight attendant, who has lived in the United States for twenty-five years, was stopped by customs officials after landing back in Houston. They detained her and tried to take away her DACA status.
Roman's attorney, Belinda Arroyo, told The Washington Post that her client's case exemplifies just how confusing the DACA program has become under the Trump administration.
"They've been lost in legal limbo, and it's getting quite ridiculous," she said. "Her case is basically the poster child for what happens when you leave these people in legal limbo."
A MoveOn petition sprang up to free Roman and pulled in more than 24,000 signatures. Many people, including Hillary Clinton, took to Twitter to express outrage over the situation.
Thankfully, Roman was finally released from custody on Friday. "I cried and hugged my husband and never wanted to let go," she said in a statement. "I am thankful and grateful for the amazing people that came to fight for me, and it fills my heart. Thank you to everyone that has supported. I am just so happy to have my freedom back."
David Watkins, her husband, shared just how traumatic and terrifying the experience had been. The Guardian reported that Watkins could only see Roman for one hour per week, through "two inches of glass." His wife's anxiety and depression were "very high."
"Sometimes you have a nightmare and when you wake up you say, 'OK, the nightmare is over'. When I go to sleep, I have nightmares. When I wake up, I'm still stuck in the nightmare," he said.
Meanwhile, Mesa Airlines is apologizing for their error and working to get the charges dropped against Roman.
"We are deeply sorry Selene and her husband have had to endure this situation," the company said in a statement. "It is patently unfair for someone to be detained for six weeks over something that is nothing more than an administrative error and a misunderstanding."