All Of These Super Relaxing Self-Care Products Are Under $20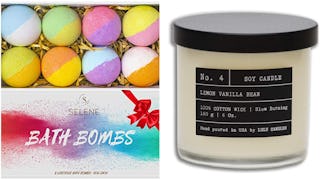 Image via Amazon
Get ready for some luxurious, budget friendly self-care
Desperately need to zen out but don't have a whole lot of time on your hands? There are a few goodies that can help you out with that. I'd like to turn your attention to some very, very relaxing self-care essentials, that will give you a moment of peace and won't break the bank.
De-stress with this mini massager. It has four nodes, fits in the palm of your hand, and will attack all of your stubborn knots
Taking a bath is great. Taking a bath with ridiculously luscious bath bombs, packed with aromatherapy and vibrant colors? Next level. This set comes with eight different options, including Tropical Coconut and Green Tea.
While you're basking in all that colorful, relaxing glow, uncap this Brown Sugar Scrub. It's super gentle, made from sweet almond oil and jojoba oil, and scrubs away all those dead skin cells.
Your tired eyes deserve all of the TLC. These collagen masks will tighten fine lines, depuff, and deliver plenty of hydration.
The rest of your face should get some attention and relaxation, too. This mud mask digs up oil and dead skin, reduces the appearance of pores, and promotes soft skin. It's packed with aloe vera, chamomile extract, and jojoba oil – aka yum, yum, and yum.
Feeling achy, cramp-y, and a whole bunch of other icky things? Go with this hot water bottle, complete with two cute and cozy fleece covers.
Need to unwind after a long, looong day? Light one of these slow burning soy candles and prepare to fully zen out. Scents include Lemon Vanilla Bean, Fresh Linen, and Sweet Rose.
Sometimes you just need to calm the f*ck down – and this coloring book is here to help you out. It's filled with lots of adult humor, comes with glowing reviews, and will provide some much-needed you time.
Give your hair some TLC with this Maui hair mask packed with Aloe Vera, Coconut Water, and Shea Butter. Prepare for soft, healthy hair and a whole lot of zen.
Calm your mind before bed with this lavender sleep balm. It's packed with essential oils and will deliver some much needed zzz's.
Here's to squeezing as much delicious TLC into your schedule as possible. You deserve it, damnit.
We may earn fees from purchases made via links on this page and affiliated sites. All opinions are our own.
This article was originally published on